Home » News
Ridley Scott's Monopoly Movie – Plot Revealed
13.11.09 #
News
#
2 Comments


In addition to the forthcoming Robin Hood movie and Alien prequel, we can look forward to Ridley Scott's big screen adaptation of one of the worlds most beloved board games – Monopoly! It still sounds crazy saying that. Ridley Scott's Monopoly. But then, David Fincher's Facebook: The Movie sounded weird until it was made clear what that was about. Monopoly's producer Frank Beddor spoke to the LA Times, giving us our first real pieces of info about the project's story:
"I took the approach of thinking of the main character falling down the rabbit hole into a place called Monopoly City. The main character is envisaged as a dorky Manhattan real-estate agent who's also an obsessive Monopoly player. A magic chance card transports him to the city where Monopoly money is currency, and where the evil Parker Brothers must be defeated.

"It tries to incorporate all the iconic imageries — a sports car pulls up, there's someone on a horse, someone pushing a wheelbarrow"
Wat.
This…still doesn't sound like a Ridley Scott movie. At all. It'll be to hear a lengthy discussion from the man himself, but that's a long way off. So, for know what we know is this is a Dorothy/Alice/Lucy escape into a fantasy world, except for Dorothy/Alice/Lucy is a grown man, and the fantasy world is a board game. Maybe there's potential for social commentary? Or maybe Ridley Scott just wants to try his hand at a light-hearted movie in the vein of Jumanji, seeing as how he's mastered quite a few other genres.
But the big question is – who should play the Monopoly Man? I bet every reader a million dollars (Monopoly money, of course) that Russell Crowe is putting on a mo-cap suit RIGHT NOW…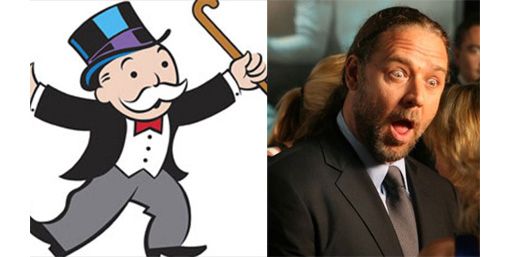 Now tell me you wouldn't buy a ticket for that.
Source: Empire