Home » Soundtrack
Yes Man Soundtrack
21.11.08 #
Soundtrack
#
88 Comments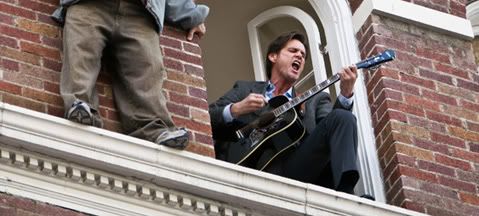 So here's the Yes Man soundtrack. Jim Carrey? Starring in a new high-concept studio comedy? As a zany everyman? Surely not, I hear you cry! Well, calm down. At least it's not The Number 23.
Yes Man looks generic, predictable, uninspired – but then Liar Liar and Bruce Almighty weren't exactly Citizen Kane, and they were pretty funny. Should be more than a few yuckles in there, worthy of an effort-free Sunday afternoon.
But should you buy (i.e. illegally download) the Yes Man soundtrack album? Well, readers, the shocking answer follows. First off, it's important to note that the Yes Man soundtrack almost entirely comprises of Eels songs. Nine of them, all in a row (including a brand new one, Man Up). And nine Eels songs in a row is a pretty damn fine way to spend 29 minutes if you ask me – and since you're reading this right now (don't deny it) that counts as asking.
And then there's an odd thing. Four tracks by a fictional band called Munchausen by Proxy, who feature in the film, fronted by… Zooey Deschanel. No, your eyes do not deceive you.
Now, the important question to ask here is this: does anyone want to hear Zooey Deschanel crooning over dirty electro? And "talk-singing" like a sardonic version of the guy from Cake? And it turns out: yes. She's actually quite good. And oddly amusing, like Flight Of The Conchords, with less jokes but better music.
In fact, I'm going to say this: I really like this soundtrack. Go buy it. Right now. Who needs 16 tracks from the Stones and the Bee Gees and Urge Overkill and Dick Dale and Howard Shore when you can just get Eels and Zooey Deschanel? What next, Pavement and Michelle Monaghan soundtracking a Steve Carrell film? Tell me you wouldn't buy that album.
Listen To The Soundtrack

You can buy it here
Yes Man Soundtrack (Songs) – Track Listing
1. Man Up – Eels
2. Bus Stop Boxer – Eels
3. To Lick Your Boots – Eels
4. The Good Old Days – Eels
5. The Sound Of Fear – Eels
6. Wooden Nickels – Eels
7. Flyswatter – Eels
8. Blinking Lights (For Me) – Eels
9. Somebody Loves You – Eels
10. Sweet Ballad – Munchausen By Proxy (f/ Zooey Deschanel & Von Iva)
11. Uh-Huh – Munchausen By Proxy (f/ Zooey Deschanel & Von Iva)
12. Keystar – Munchausen By Proxy (f/ Zooey Deschanel & Von Iva)
13. Yes Man – Munchausen By Proxy (f/ Zooey Deschanel & Von Iva)
Leave your thoughts on the Yes Man soundtrack in the comments.
NEW: Funniest Animated Gifs About Movies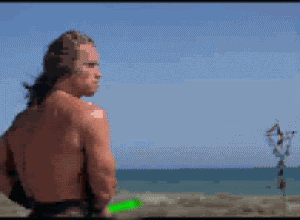 Arnold Rave