Home » Review
Four Christmases Reviews
25.11.08 #
Review
#
2 Comments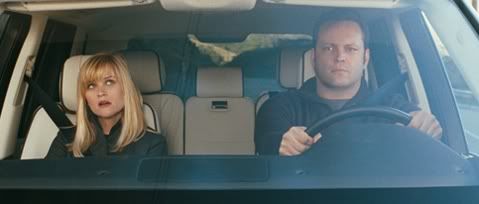 The Four Christmases reviews have snuck down the chimney.
Man mountain Vince Vaughn, who looks like he ate the Vince Vaughn in Swingers, stars opposite Reese Witherspoon, who is reportedly only witherspoon during a scene at a dining table.
The two actors apparently hated each other on set, which should mean this is one of the most realistic portrayals of a long-term relationship ever seen on screen.
Here's what the movie critics are saying -
"[Four Christmases] delivers a quadruple dose of dysfunctional family hijinks to genuinely dispiriting results. Bad enough to create one of the most joyless Christmas movies ever, but then to go for an unearned feel-good ending adds insult to injury."
"…Four Christmases produces very little merriment… Seth Gordon [dir. of documentary The King of Kong] acquits himself reasonably well. But the script gives him much less to work with than he had in the real-life drama and comedy of his earlier film. …there's a notable lack of chemistry between the two leads in their one-on-one scenes together."
Variety -
"Oddly misanthropic, occasionally amusing but thoroughly cheerless holiday attraction that is in no way a family film."
Four Christmases currently holds a 22% rating on Rotten Tomatoes, from 9 reviews.
Leave your own Four Christmases reviews in the comments.
Also See:

Australia Movie Reviews




Twilight Movie Reviews

,

Transporter 3 Movie Reviews