Home » Top Ten
Top 10 Worst Sequels To Great Movies
3.08.12 #
Top Ten
#
22 Comments
5. Jurassic Park III
Tip for success: open your summer blockbuster with a pun.
Spielberg wisely stayed away from the director's chair for this installment, a wet hot mess of gibberish that was written one month before filming began, after the original premise was abandoned. Forced to carve a story around sets and stunts that were already built, the result was: a talking velociraptor. Also, the producers chose kill a T-Rex, the world's most popular dinosaur, and replace it with a giant crocodile with a fin hot-glued to its back. Even if one can forgive the weak story, it's impossible to get past Joe Johnson's cartoony directing choices, often speeding up the film when his actors reacted to the dinos, making William H. Macy look even more like a Looney Tunes character.
Lowest point:
4. The Blues Brothers 2000
Watching dailies.
Titled Blues Brothers 2000 even though it was released in 1998, this sequel replaced the deceased (and genius) John Belushi with the husband from Roseanne. It was all downhill from there. The dull dialog, forgettable musical numbers, and asinine magical elements destroyed all credibility, culminating in a mind-numbing finale where Erykah Badu turns everyone into bright green zombies.
Lowest point:
3. Batman and Robin
We want you to die of shame.
Legend has it that Joel Schumacher saw George Clooney's picture on a magazine, covered up the top portion of his head, and thought his chin looked fabulous. With that level of thought going into every major creative decision it's hard to imagine they made anything short of a masterpiece … but he pun-filled one-liners, campy stunts, and homo-erotic undertones so utterly destroyed the franchise that it took seven years for the studio to try again.
Lowest point – here
2. Indiana Jones and the Kingdom of the Crystal Skull
"It'll get better, right?" – The Audience
From the cartoon gopher to the head-exploding aliens, Indy 4 is chock full of horrible scenes. But the worst is when monkeys teach Indy's son to swing on vines so he can lead them on a revolt against their cold-war oppressors. This flick also changed pop-culture vernacular with the phrase "Nuke the Fridge," in reference to the scene where our aging hero survives a ground-zero nuclear blast in a refrigerator.
Lowest point:
1. Highlander II: The Quickening
Sean Connery and Christopher Lambert share a moment of silence for their dead artistic integrity.
The original Highlander has a brilliant concept … but the sequel worked hard to crush its fan base by completely ignoring the events of the first film, going as far as to resurrect a dead character with no explanation and deconstruct the magical theme by weaving an interstellar science-fiction origin story. Years later the director tried to make amends by re-editing a "Renegade Version" of the film, trying to dupe fans into thinking the "off planet" scenes really took place in a long forgotten civilization in Earth's ancient past … again failing to realize that the man character was not even BORN until the 1500s.
Lowest point:
Honorable Mention: Alien: Resurrection, The Matrix: Revolutions, Pirates of the Caribbean: At World's End, and the Terrible Twos: The Exorcist II: Heretic, Poltergeist II: The Other Side, and Airplane II: The Sequel.
---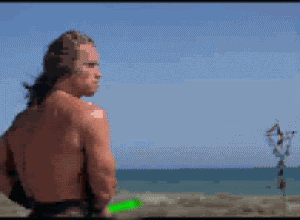 Pages: 1 2