Home » Review
Review – Doomsday
13.03.08 #
Review
#
5 Comments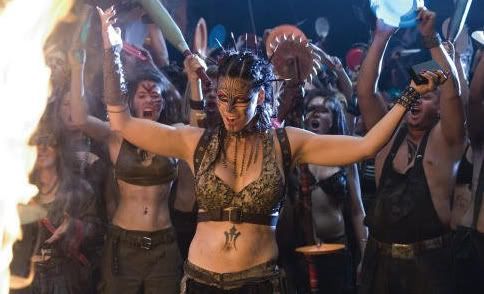 Director: Neil Marshall
Cast: Rhona Mitra, Bob Hoskins, Adrian Lester, Sean Pertwee
Our Rating: C+
Reviewed By: Joe MartinezNeil Marshall's latest is an apocalyptical tale that sees Scotland quarantined ("Hooray!", "At Last!" etc.) and cut off from mainland Britain after a viral outbreak kills everyone.
Fast forward to 2033 – When it transpires that the outbreak has re-surfaced in London, and that there are survivors across the wall in Scotland.
Failed Tomb Raider model and plastic surgeons daughter (who could've guessed?!) Rhona Mitra plays Eden Sinclair, an elite soldier charged with trying to break into Scotland and find a Doctor who may have invented a cure.
Unfortunately for her, and the team of soldiers she's been assigned to, she has only 48 hours before London is lost to the virus….
I don't think it's too much of a leap to say that I think Marshal has seen Mad Max – the film obviously borrows heavily from George Miller's classic, not least of all in a dynamically directed car chase near the movie's finale. (Watching it, it's easy to imagine the sequence being from a Mad Max remake.)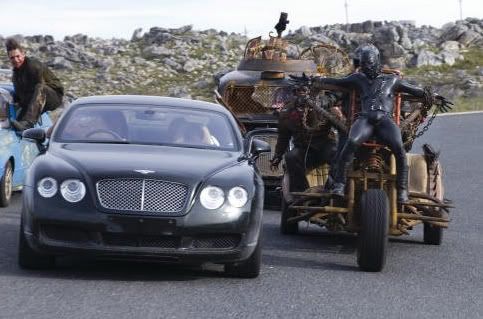 "The gimp rides up top."
The film also feels similar to John Carpenter's early work, and has garnered a comparison to Escape from New York in particular, and after seeing Doomsday, you can certainly see why. (Marshall gives a nod to that particular film by having his heroine lose an eye.)
The film's greatest flaw is Rhona Mitra, who looks asleep most of the time, and bored the rest. She's certainly an early contender for a Razzie – delivering the worst performance I've seen for a while, coming off as more wooden than the inside of a sauna.
Even Adrian Lester, usually fairly dependable, lets himself down here.
I think if taken as a crazy, (very) bloody homage to 80's schlock, this could be a fun ride, but unfortunately for me (a fan of the genre) it seemed to be little else.
I was left to wonder at the extent of any studio involvement in the final version of the film – mainly due to some very odd pacing choices – the worst of which, and the most likely to infuriate viewers – is when the film suddenly switches to a medieval environment. (Almost as though this were an excuse to have a gladiatorial style fight…)
The director has an obvious fondness for the horror genre, and he shows here that he is a more than capable director with some very neat visual flourishes, the only trouble being that when all the clever nods to genre staples are over, there's nothing left but poorly delivered lines and the kind of performances you'd expect from a Uwe Boll film.
Many people feel that Marshall is The Next Big Thing, but that he hasn't necessarily made a film that will mark him out as something special (though I'd argue he did that with The Descent) and if people believe that, then this film isn't going to change their minds.
Oh – and rumors that the viral outbreak that cripples Scotland arises from infected batches of Tennent's Extra are just plain wrong.
– – –
GET THE LATEST REVIEWS DELIVERED STRAIGHT TO YOUR INBOX, SIGN UP FOR THE NEWSLETTER



– – –
NEW ON THE SITE

The Funniest Animated Gifs About Movies
– – –