Home » Top Ten
Movie-Moron's Best & Worst Films Of 2008
26.12.08 #
Top Ten
#
9 Comments
As 2008 draws to a close everyone reading this can look back on a year of extraordinary personal achievement. Hollywood has achieved much too.
The Movie-Moron community was asked in this forum post to provide their top ten best films of 2008. Those results have now been compiled into one mega-and-totally-definitive-list.
---
MOVIE-MORON'S BEST MOVIES OF 2008
10. Zack And Miri Make A Porno
T.Ross – "We needed a Kevin Smith porno film."
9. Quantum Of Solace
Sheridan – "Any movie where the villain is raising utilities bills is right for the times."
8. Forgetting Sarah Marshall
Fury Of The Film Fan – "Great writing. Should be a template for more comedies."
7. The Strangers
Tyler Lovermark – "No needless crap that litters horror movies today, but good ol' classic bad things happening to ordinary people."
6. Wanted
Stinking Bob – "Really cool kill scenes. And Angelina Jolie's bare ass."
5. Pineapple Express
T.Ross – "Two stoners. Machine guns. Awesome."
4. Iron Man
Dalmatian Jaws – "They even had a storyline for the little robotic claw he works with."
3. Cloverfield
Tyler Lovemark – "One hell of a fun ride."
2. Wall-E
Dalmatian Jaws – "One of the best dystopian pieces I've ever seen. Shocking, scary and beautiful."
1. The Dark Knight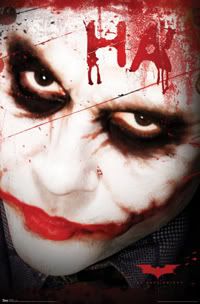 Melissa Brobby – "Watch the pencil scene, you'll understand."
---
MOVIE-MORON'S WORST MOVIES OF 2008
5. College
Jeff P – "Worst script ever."
4. Prom Night
Sheridan – "Perhaps the most awful, toothless, idiotic big budget horror I've seen in my lifetime."
3. Jumper
Dalmatian Jaws – "Whiny hero takes girl on vacation instead of running from super villains."
T.Ross – "The story was too then, and it had no closure at all, you are just left stuck at the end. The trailer showed all the good parts."
Sheridan – "Liked it."
2. Saw 5
Adam Mason – "Not even hilariously funny like the last three were."
1. Indiana Jones And The Kingdom Of The Crystal Skull

Adam Mason – "Never happened. Nope. Not a real film. Dunno what you're talking about."
---

NOTES FROM 2008
As founder of Movie-Moron, I thought I'd wrap up with a few personal observations from this year:
- Twilight initially annoyed me, but I've changed my mind. It's nice to see the female demographic getting involved in movie gossip, and with the sort of gigantic enthusiasm for film I wish I still had.
- The strongest negative reaction from readers this year, without doubt, has been toward the Nightmare On Elm Street remake. Particularly recasting Robert Englund.
- Indiana Jones 4 was the most divisive film of the year. It topped the worst poll because those who loved it refused to come back to the site after we gave it an F. (Farewell sweet Henrick)
- I've enjoyed seeing reviewer Chris Neilan take on hundreds of furious Twilight fans single-handedly. And I've enjoyed seeing news blogger Adam Mason battle the entire world.
- T.Ross's contribution to the forum in recent months has been great. True, his unquestioning adoration for Platinium Dunes has had everybody scratching their heads, but what's the harm.
- The Dark Knight defined this summer, whether you think it was a perfect movie or not. Next year doesn't have anything nearly as exciting. Watchmen, Star Trek, Terminator Salvation, Transformers 2… all good prospects, but none of them raise anything like the same level of interest.
Here's to 2009.
Join the forum here and set things straight. What were your best and worst movies of 2008?