Home » Sequel
Alien 5 – Sequel Plans
2.01.09 #
Sequel
#
70 Comments
I don't think it's bad or biased journalism to say that anyone who has seen the film Alien and doesn't think that it's the greatest science fiction film ever made should be ceremonially tortured and thrown from a bridge.
Ridley Scott's opus has been clinically tested to be made of pure awesome; so much so that James Cameron was inspired to make the sequel and Fox Studios still covets the franchise despite the lackluster 3rd and 4th installments.
Judging by their faces, this is a passion project.
And now, after critical and box office Alien failure for over a decade, Ridley Scott and Sigourney Weaver have been talking about potentially restarting the franchise by adding a new twist: Alien 5 might not feature any aliens.
Or rather, no Xenomorph, the iconic Geiger-created beast that drove the story of four films.
Sigourney Weaver: "We'd have to go back to the drawing board on [the alien]. Ridley said that right away when we first talked about [a fifth film]. …What we're interested in is taking the character of Ripley and seeing what other science fiction story we can tell about someone who has lived several lives."
The duo think there is plenty of character development left for Ripley. But after fighting off a hell beast, falling asleep for a generation and outliving her entire family, starting a NEW family after defeating an Alien army, losing that family in a space ship accident, giving host to an Alien in her stomach, dying, being resurrected in the far future, being genetically mixed with Alien DNA, having super powers, becoming a psychic, having group sex with a nest of Aliens, giving birth to an Alien/Human half-breed, then finally returning to Earth … one wonders what exactly is left to develop.
No matter. With Ridley involved and Weaver's face on the poster, fans would turn out at theaters to gamble their ten dollars, this writer included.
Sigourney researches her character motivation for an upcoming scene.
It's all just talk for now, and even if they put a proposal together there's no guarantee Fox would want to do it.
What would you like to see happen in an Alien 5? Leave your comments below.
Source: MTV
---
UPDATE 2013
This project became Prometheus. Click here to read about Prometheus 2
---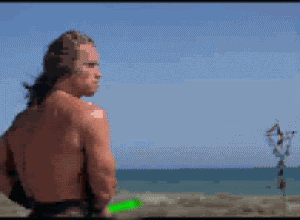 Get Updates & Rumors For ALIEN 5, Get The Newsletter