Home » Box Office
Box Office – 21 Top Again. Leatherheads, Nim's and Ruins Underperform
6.04.08 #
Box Office
#
2 Comments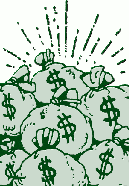 A slow weekend for the box office indeed. None of the releases managed to dethrone lucky 21, which added $15m to its total to reach a surprising $46m.
George Clooney's third directorial effort, Leatherheads, went for the endzone, but ultimately fell short and had to settle for second with $13.4m. Leatherheads looked like Coen Brothers' screwball lite. And Coen Brothers screwball heavy doesn't exactly do good numbers.
Nim's Island (trailer here) seems to have taken Sigourney Weaver's paranoid character from Copycat and put her in a kids' movie. This time Jodie Foster is the one sh*tting herself about going outside, while elsewhere Abigail Breslin is on an island that seems to have made her age ten years. And Gerard Butler is the ghost of Indiana Jones, or something. This head-scratching combination overrode any star power to dump Nim's third with $13m. Is this the twelfth children's fantasy movie this year?
And lastly, The Ruins appears to have been left in exactly that, taking only $7.8m. While online critics have been giving it some props, everyone else thought it looked like Turistas 2.
[1] 21 – $15,100,000
[2] Leatherheads – $13,485,000 (NEW)
[3] Nim's Island – $13,300,000 (NEW)
[4] Dr. Seuss' Horton Hears a Who – $9,100,000
[5] The Ruins – $7,840,000 (NEW)
[6] Superhero Movie – $5,405,000
[7] Tyler Perry's Meet the Browns – $3,510,000
[8] Drillbit Taylor – $3,495,000
[9] Shutter – $2,875,000
[10] 10,000 B.C. – $2,770,000
– – –
[15] Shine a Light – $1,511,000 (NEW)
– – –
[30] My Blueberry Nights – $73,700 (NEW)
– – –
[34] Meet Bill – $39,300 (NEW)
[35] The Flight of the Red Balloon – $37,200 (NEW)
By: Sulphix
Source: Box Office Mojo
Discuss This On The Forum Here