Home » Sequel
Scream 4 – Sequel Plans
13.01.09 #
Sequel
#
20 Comments
Scream 4 is finally starting to take shape, after being officially announced several months ago.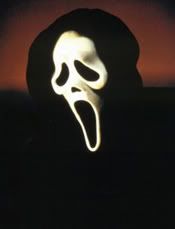 Without doubt the most exciting / hip time to be a horror fan in the last couple of decades was when Scream and Scream 2 came out. They made horror cool again, and were packed with clever references to the obscure 80s slashers you thought only you knew about. It was populist horror done with real brains and kick started the genre that had spent years in the wilderness.
Scream 3 carelessly dumped Kevin Williamson's script (he was the screenwriter of parts 1 and 2) and suffered horribly as a result.
Good news is, he's writing Scream 4.
Scream 4 is still in the early stages of development, but it's said there is a good possibility Wes Craven will return to direct. (If he doesn't, may I suggest Patrick Lussier, who has done good work on My Bloody Valentine 3D and was the editor of Scream 1 and 2).
Cast-wise, financial offers have gone out to David Arquette, Courtney Cox Arquette and Neve Campbell to play cameos. But this will be a younger version of the Scream movies. I have no problem with this, as Arquette and Cox in particular were looking tired even by the time of Scream 3, eight years ago.
More details as we get them.
What would you like to see happen in Scream 4? Leave your thoughts in the comments.
Source: Bloody Disgusting
Get Updates & Rumors For SCREAM 4, Get The Newsletter: