Home » Sequel
My Bloody Valentine 2 – Sequel Plans
16.01.09 #
Sequel
#
111 Comments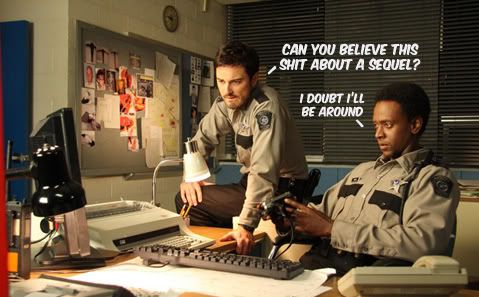 There's an unusually high level of fan buzz going into My Bloody Valentine 3D's opening weekend, which is a good thing because My Bloody Valentine 2 is already plotted out.
The end of My Bloody Valentine 3D has a natural opening for a sequel and director Patrick Lussier has been very up front, "If the movie takes off, Todd [the screenwriter] and I have mapped out a whole continuing adventures. We have figured out a way of injecting several twists and turns. Even though the mystery is solved there are still things to learn and things to know and things that are unexpected and reversals of fortune that happens to those who survive. We had great fun doing it because if you're going to do it, you don't want to retread what you've just done – you want to take it in a new direction. But at the same time, you want to do all those things people have fun with. And the mystery is one of those things, how do you have a mystery when you already know the answer? Well, we've figured out a way."
Interestingly, My Bloody Valentine 3D's open ending wasn't always so clear cut. Star Jensen Ackles reveals, "We shot a couple of different endings, so I don't think it was solidified as to how the film would end up. There were a few different ideas and we shot them all. Then we tested them to see what worked best."
Lussier has said if the sequel happens, you can expect all the surviving cast members to return. So how long would we have to wait to see My Bloody Valentine 2? Screenwriter Todd Farmer notes, "You know… the problem is, it would be… if it were to happen, it would have to happen quickly because there is a TV schedule Jensen has. Kerr very possibly could end up with a TV show so there's that to consider."
Sounds like this miner could be working double shift without a proper break. Somebody call the union.
What would you like to see happen in My Bloody Valentine 2? Leave your thoughts in the comments.
Sources: Chud, ShockTilYouDrop, JoBlo
Get Sequel Updates For MY BLOODY VALENTINE 2, Get The Newsletter:


[]