Home » Remake
Karate Kid Remake – Jackie Chan Set For Mr. Miyagi
15.01.09 #
Remake
#
11 Comments
By now I'm sure you heard another 80s classic, The Karate Kid, is being reprocessed for a new generation... It'll star Will Smith offspring Jaden Smith and will, interestingly enough, be set in an exotic Asian locale (I'm gonna guess right now he's some sort of lonely army brat). It'll no doubt follow the same simple storyline of the original:
Kid gets his ass kicked…
Kid gets his ass kicked some more…
Kid is really getting tired of getting his ass kicked but really has no say so in the matter…
Quirky mentor teaches kid not only karate but life lessons in quirky manner…
Bloodthirsty kid kicks in with some ass-kicking against previously mentioned ass-kickers…
Final freeze frame of a proud (even slightly smug) Mr. Miyagi.
THE END
Now comes the news that none other than Jackie Chan is in final negotiations to play the role of Mr. Miyagi. The role seems tailor-made for him and could offer some resuscitation to his flatlining Hollywood career (despite the superfluous RUSH HOUR 3 making $140 million stateside).
The film begins shooting early this summer in Beijing. Harald Zwart (THE PINK PANTHER 2) will helm the film. It's produced by original KARATE KID producer Jerry Weintraub alongside Will Smith's Overbrook Entertainment's James Lassiter, Ken Stovitz and (natch) Will Smith.
I'm kinda on the fence on this remake and could go either way. However I must admit that no matter how good this "do-over" is it'll never offer the pure satisfaction of seeing Ralph Macchio systematically getting beat down. While I have nothing against the actor I always found "Daniel Larusso" to an annoying little puss-puss with a dumb-ass sense of humor and more luck than game in getting laid. (It also doesn't help that he spends the first half-hour of the original bitching and whining about my native state of Cali).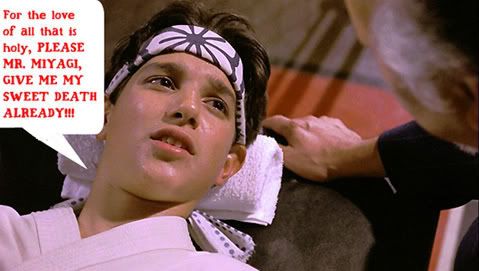 Source: Variety