Home » Top Ten
Obama's Top 5 Favorite Movies
20.01.09 #
Top Ten
#
15 Comments
He landed his house on the Wicked Witch Of The East (Hillary Clinton), and defeated the evil Penguin (John McCain), but wait, this isn't a movie, this is real life, and the hero is Barack Obama.
You can tell a lot about the measure of a man by the movies he likes. So what does the new President rate as his favorites? He has actually mentioned his top 5 a couple of times and here they are. What do they say about him?
Casablanca (1942)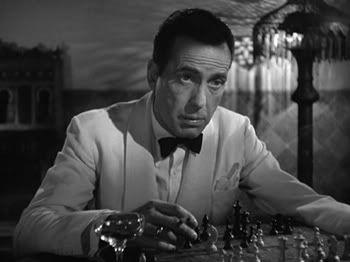 "Who doesn't like Casablanca?" says Barack.
Teenagers is the answer, but he's not pandering to them, and we like that.
Although you certainly can't tell what someone's policies will be from watching a movie, Humphrey Bogart does run a place called "Rick's Café Américain" which attracts a mixed clientele of refugees and thieves, and runs guns to Ethiopia.
One Flew Over The Cuckoo's Nest (1975)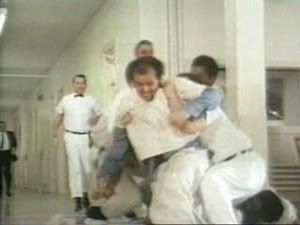 Jack Nicholson gets himself transferred to a psychiatric ward in Milos Forman's dramatic masterpiece. What he finds is a cruel institution that delights in torture and mental anguish, so he sets about changing the way things are done.
Hello? Guantanamo?
Godfather I & II (1972, 1974)
Barack hasn't put these top 5 in order but we do know that these are his top 3…
"My favorite movie scene?" he told Katie Couric, "The opening of the first Godfather where the caretaker comes in and Marlon Brando is sitting there and he's saying "You disrespected me. You know and now you want a favor." It sets the tone for the whole movie. There's this combination of old world gentility and ritual with this savagery underneath."
It sure is an interesting style of leadership.
"What about part 3?" asks Couric.
"Three? Not so much."
Lawrence Of Arabia (1962)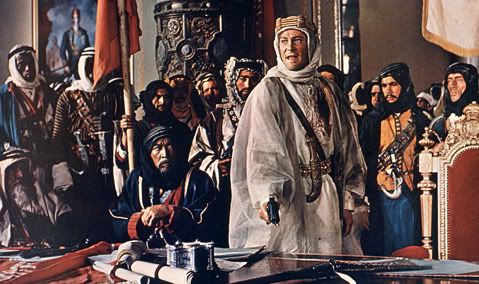 So all of Barack's choices are Oscar winners. Classy through and through.
Lawrence Of Arabia tells the story of a western man who surprises everyone by leaving his Christian roots behind and leading an Arab army against… Look I'm sure none of this means anything.
—
For the record, Obama's favorite actors are Jimmy Stewart, Spencer Tracy, Humphrey Bogart, Meryl Streep, Susan Sarandon and Angela Bassett. He is yet to speak out publically on what he thinks of Darth Maul, whether Superman Returns was boring, or which side of the fence he's on regarding Michael Bay's Transformers.
"I can rattle off a bunch of movies," says Obama, "I'm a movie guy." So are we Mr. President, so are we.