Home » Top Ten
Freddy vs. Jason vs. Michael: Round #5
10.02.09 #
Top Ten
#
No Comment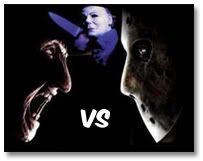 For the 8 days leading up to the release of the Friday The 13th remake, there's a Freddy vs. Jason vs. Michael movie showdown.
I haven't seen the originals since I was a kid and I've never bothered with the sequels, so it's time to hit up Blockbuster and finally figure out who is the reigning king of horror, round by round.
Round #5
Friday the 13th Part V: A New Beginning — Halloween 5: The Revenge of Michael Myers — A Nightmare on Elm Street Part 5: The Dream Child
THE LOSER: HALLOWEEN 5: THE REVENGE OF MICHAEL MYERS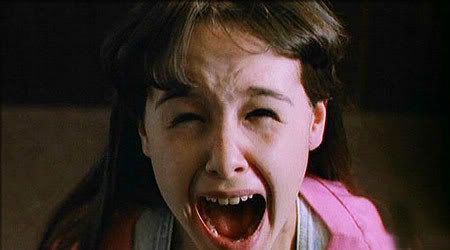 Forced to watch dailies.
Michael turns in another poor performance in the 5th round. The only reason to watch this film is Jamie, the young heroine and survivor of the last film. She offers a fantastic child-actor performance that is sadly lost amidst horrible film making, which might be the revenge of which the title speaks.
Watch it and you'll probably fall asleep after the third pointless character is killed off screen without any good gore, or after a sex scene with no boob shot, or after Donald Pleasance says "I prayed he'd go to hell, but in my heart I know hell wouldn't take him."
Scariest Part: The sheriff deputies that walk synchronized to clown music.
Worst Part: Michael Myers CRIES!!!
Unintentionally Funny Part: "Bum bad a, bum ba da, BUM BA DA, bum ba DAAAA" (it's the new dress song).
THE RUNNER-UP: A NIGHTMARE ON ELM STREET 5: THE DREAM CHILD
Starring Marlon Brando as Freddy.
When a girl named Alice succumbs to her destiny and becomes a small-town waitress, she relieves her short-order depression by having awkward teenage sex. When she gets knocked up, Freddy arrives to recruit the rug rat for his bleeding purposes.
Freddy continues his downward slide towards comedy instead of fright. It's hilarious when the cherubic Muppets pop from Freddy's chest, but when Freddy faces off against a small child in an Escher-like stair maze, they attack each other with far too many slime-covered phallic symbols for this writers sensibilities.
Scariest Part: A woman trapped with 100 maniac rapists.
Worst Part: Super Freddy kills Comic-Book Boy.
Unintentionally Funny Part: Her evil offspring is that annoying kid at the beginning of Jurassic Park.
THE WINNER: FRIDAY THE 13th PART V: A NEW BEGINNING
Friday the 13th returns to the Jason-less formula of the first film.
Starting off about a decade after the last film, Corey Feldman's character has grown up to look nothing like Corey Feldman. He's really messed up after shaving his head, so now he has to go to a summer camp for nutcases. While there, another nutjob kills someone and he starts freaking about and hallucinating images of Jason.
And it turns out that Jason really isn't there and it's just some … you know what, it has an ending that's worse that Scream 3 and it's still better than these other two films. Enough said?
Scariest Part: The first kill.
Worst Part: The ending reveal.
Unintentionally Funny Part: The nature-loving sex scene.
SUMMARY
Freddy and Michael are so bad that Jason wins by sending a proxy.
CURRENT SCORE
Freddy – 2
Jason – 2
Michael – 1
Previous Rounds:
Round #1: Friday The 13th -vs- A Nightmare On Elm Street -vs- Halloween
Round #2: Friday The 13th Part 2 -vs- Elm Street 2: Freddy's Revenge -vs- Halloween II
Round #3: Friday The 13th 3D -vs- Elm Street 3: Dream Warriors -vs- Halloween III
Round #4: Friday The 13th Part 4 -vs- Elm Street 4: Dream Master -vs- Halloween 4
The Fight Continues:
Round #6: Friday VI: Jason Lives -vs- Freddy's Dead: The Final Nightmare -vs- Halloween 6
Round #7: Friday VII: The New Blood -vs- New Nightmare -vs- H20
Round #8: Jason Takes Manhattan -vs- Halloween: Resurrection
Round #9: Jason Goes to Hell & Jason X