Home » Romantic Movies
Top 20 Romance Movies
14.02.09 #
Romantic Movies
#
191 Comments
16. When Harry Met Sally (1989)
A brilliant romantic comedy examining issues of male / female friendship. Harry (Billy Crystal) and Sally (Meg Ryan) are Chicago graduates who meet when Sally gives Harry a lift to New York. As the years go by, the pair continuously bump into each other, causing a close friendship to blossom between them. They're both happy with things as they are, but can a man and a woman ever just be friends without sex getting in the way?
15. Ghost (1990)
From the director of Airplane! (Jerry Zucker) comes this multi Oscar nominated movie that may have been a corny take on a romantic fantasy, but never fails to send the heart into a flutter. Sam and Molly (Patrick Swayze and Demi Moore) are a young couple walking back to their apartment when Sam is attacked and murdered by a mugger. Trapped on Earth as a ghost, he learns that his murder was not an accident, and that Molly's life is in danger. In order to warn her, he starts communicating through the only person who can see him – psychic Oda Mae Brown (Whoopi Goldberg).
14. Breakfast At Tiffany's (1961)
This flirty and fun movie, directed by Blake Edwards and loosely based on the novella by Truman Capote, is Audrey Hepburn's most complex performance. Paul Varjak (A-Team's George Peppard) is a struggling writer who moves into a New York apartment building, and is captivated by his quirky, free spirited neighbour Holly Golightly (Hepburn). Golightly's introvert/extrovert persona confuses and fascinates Paul; they ultimately fall for each other, but are confused and insecure about the other's feelings. It all works out in the end, though.
13. Dirty Dancing (1987)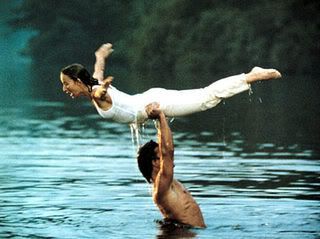 Guaranteed to be found in many women's DVD collections, Dirty Dancing was THE romantic movie of the 80's. The sight of Patrick Swayze's chiselled self turning Frances (Baby) from a girl into a woman never fails to make a hot blooded lady swoon.
It's the summer of '63, and privileged daddy's girl, Frances 'Baby' Houseman fails for hunky dance instructer, Johnny (Swayze), at a holiday resort in the Catskill Mountains. As they rehearse passionate latin dances they find themselves falling in love. However, Baby's father doesn't approve, bans her from seeing him, and Johnny finds himself fired. But Johnny returns to perform the final dance of the season, plucking Baby from her family's table with the immortal line "Nobody puts Baby in a corner."
12th Place >