Home » Romantic Movies
Top 20 Romance Movies
14.02.09 #
Romantic Movies
#
191 Comments
4. The Notebook (2004)
Nick Cassavetes's modern classic is a beautiful and heartbreaking romance drama. Ryan Gosling and Rachel McAdams star as Noah and Allie; a young couple whose story about how they meet and fall in love in the 1940s is narrated from the present day by an elderly patient. There are many obstacles that prevent the young couple from being together, but they eventually overcome them in the saddest but most beautiful way. Be prepared to sob a river.
3. West Side Story (1961)
The energetic 1961 musical is an adaptation of Romeo and Juliet, set in New York. Two rival street gangs – the Sharks and the Jets – battle each other on the streets of Manhattan to gain territory. However, whilst attending a dance, Tony, best friend of Jet leader Riff, falls in love with Maria – the sister of Sharks leader Bernardo. The two conceal their love from everyone as they meet in secret and their feelings from each other grow stronger. But the two gangs are preparing for a final showdown to proclaim control of the streets. Is the romance doomed to failure, or can it overcome?
2. Gone with the Wind (1939)
This eight time Oscar winner starring Clark Gable and Vivien Leigh focuses on the love between Rhett Butler and Scarlett O'Hara – a woman with a selfish streak who refuses to confess her feelings for Butler, and loses him in the process.
1. Casablanca (1942)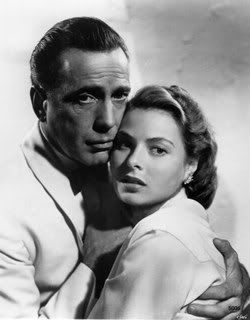 Set during WWII, bitter bar owner Rick Blaine (Humphrey Bogart) must decide if he is to help his ex Ilsa (Ingrid Bergman), the woman he still loves, and her Resistance leader husband flee the city of Casablanca, and in doing so lose her forever. The ultimate conflict of the heart, in one of the greatest love stories ever told.
Were there other romantic movies that deserved to be on this list? Leave your thoughts in the comments.