Home » Top Ten
Freddy vs. Jason vs. Michael: Round #8
13.02.09 #
Top Ten
#
One Comment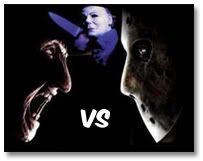 The Friday The 13th remake is released today, and to coincide the Freddy vs. Jason vs. Michael movie showdown comes to a close with a two-parter.
I haven't seen the original movies since I was a kid and never bothered with the sequels, so it's time to hit up Blockbuster and finally figure out who is the reigning king of horror, round by round.
*NOTE* Due to unforeseen box office numbers, Freddy had to bow out of the final rounds. Look for him soon in another Platinum Dunes remake, coming in 2010.
Round #8
Friday the 13th Part VIII: Jason Takes Manhattan — Halloween Resurrection
THE LOSER: HALLOWEEN: RESURRECTION
America's Next Dead Model
Lasting longer than Freddy, but barely able to stand, Michael throws some weak punches in his final round.
Of all the insipid Halloween sequels, this one is by far the most ridiculous. I don't know what contract clause bound Jamie Lee Curtis to this flick, but it must have been enforced by the entire New Jersey mafia.
Completely ignoring the nicely bookend story arch that H20 provided, Resurrection attempts a lame "twist beginning" that involves a mask "switcheroo" and Laurie Strode tricking Michael into a rooftop rabbit snare.
Michael kills her and escapes, then returns to his family home to find an internet reality show has set up camp. What follows is a pointless, boring, unscary hour of tedium. The film isn't watchable, but if it was, it would be for Busta Rhymes in the most uncomfortable performance in film history or watching Battlestar Galactica's Katee Sackhoff get decapitated.
Scariest Moment: When Michael passes the torch to another mental patient.
Worst Moment: Busta Rhymes's enormous mouth.
Unintentionally Funny Moment: The high school Halloween costumes.
THE WINNER: FRIDAY THE 13TH PART VIII: JASON TAKES MANHATTAN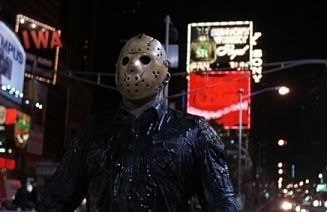 Jason takes a chance on his Broadway dreams.
Manhattan isn't so much "taken" in this film as it is replaced with Canada.
Once again, Jason is revived with lightning and once again we wreaks havoc. Although, due to budget restraints, he wreaks havoc on a tug boat instead of New York. In fact, other than some stock footage, New York doesn't arrive until the final half hour.
When it does, the movie really gets great. Kane Hodder does what he does so well as Jason, and the humor level is almost as high as part VI. Particularly great is the boxing scene between Jason and the token black character that ends in decapitation. Hilarious.
Scariest Moment: The mutated young Jason ghost.
Worst Moment: When the first victim conveys sheer terror by biting her lip and whining.
Unintentionally Funny Moment: The disco dance floor death scene.
SUMMARY
Jason turns in an adequate installment with a nice nod to the original film and Michael turns in the lamest ending since the seventh Harry Potter book.
CURRENT SCORE
Freddy – 2
Jason – 4
Michael – 2
Previous Rounds:
Round #1: Friday The 13th -vs- A Nightmare On Elm Street -vs- Halloween
Round #2: Friday The 13th Part 2 -vs- Elm Street 2: Freddy's Revenge -vs- Halloween II
Round #3: Friday The 13th 3D -vs- Elm Street 3: Dream Warriors -vs- Halloween III
Round #4: Friday The 13th Part 4 -vs- Elm Street 4: Dream Master -vs- Halloween 4
Round #5: Friday V: A New Beginning -vs- Elm Street 5: Dream Child -vs- Halloween 5
Round #6: Friday VI: Jason Lives -vs- Freddy's Dead: The Final Nightmare -vs- Halloween 6
Round #7: Friday VII: The New Blood -vs- New Nightmare -vs- H20
The Fight Continues:
Round #9: Jason Goes to Hell & Jason X