Home » Top Ten
Freddy vs. Jason vs. Michael: Final Round
13.02.09 #
Top Ten
#
16 Comments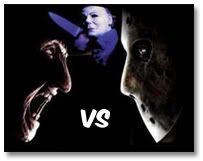 I hadn't seen the original movies since I was a kid and never bothered with the sequels, so I've been hitting up Blockbusters all week to figure out who is the reigning king of horror, round by round. Now it's time for the wrap-up, and final results.
And the Winner is …
JASON!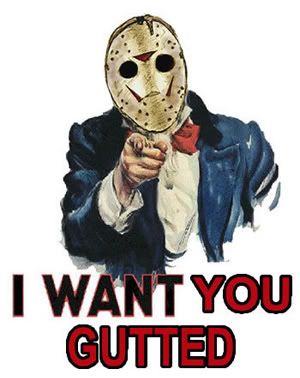 After a flawed but entertaining 8th installment, Jason knocks Michael to the ground and makes a two film victory dance. Not only is he the longest running franchise without a "reboot," but he has also turned in the largest amount of watchable installments.
Unfortunately, his last two do not fall under that category.
JASON GOES TO HELL: THE FINAL FRIDAY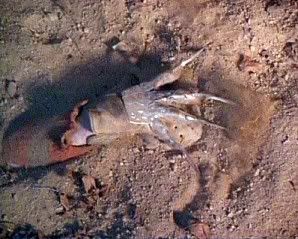 Freddy saves Jason from another embarrassing sequel.
Every Jason movie is linked through ridiculous endings and even sillier beginnings. Each consecutive screenwriter must find a way to bring Jason back from an early grave, and each time the reasons are more and more insane. But the fun part is they always connect.
So at the end of Part VIII, when Jason's young healthy body is seen floating in a New York sewer, one would think the next wave of filmmakers could play with a whole new Jason.
Alas, Sean S. Cunningham had other ideas. In a sad attempt to get a "Freddy vs. Jason" movie made, he decided to make this installment for the sole purpose of setting up his dream project.
The result is a pointless, abysmal, virtually Jason-free movie.
For some reason, Jason is back to his hulking mutated self at Crystal Lake. Then he's lured into the woods by a ninja gymnast and blown up by the military. After a doctor eats his heart, he turns into a parasitic worm and jumps from body to body until he can be reborn as Kane Hodder.
In the end, he's defeated by a nerd and a jungle gym, and as he's taken to hell by demons, Freddy's glove pops out of the ground and steals his mask. That's literally the entire, horrible movie. I can't even make any jokes about it.
JASON X
Cash or check?
I can, however, make jokes about Jason X.
But I'm not going to. This film has one redeeming quality: it irrevocably, through poor quality and poorer box office results, killed off a runaway franchise.
Don't get me wrong. I love Jason. But the simple fact that a serial killer from a tiny sleepaway camp ended up a space cyborg in the far future is appalling, no matter how self-referential the humor is.
This is the toy, which compared to the movie looks kind of cool.
By the end there were no screams, no laughs, only tedium. Yes, that's right, they actually launched the Friday the 13th franchise into space and made it boring.
I kind of makes me sad the franchise ended on this note. But never or fear (or, possibly, fear more). Jason is about to be reborn under the Platinum Dunes moniker. I haven't brought myself to see it yet. Can anyone tell me how it is?
No points awarded.
FINAL SCORE
Freddy – 2
Jason – 4
Michael – 2
Scariest: Freddy
Most Boring: Michael
Most Fun: Jason
Most Rewatchable: Jason
Most Creative Kills: Freddy
Most Artistic Integrity: Michael
Previous Rounds:
Round #1: Friday The 13th -vs- A Nightmare On Elm Street -vs- Halloween
Round #2: Friday The 13th Part 2 -vs- Elm Street 2: Freddy's Revenge -vs- Halloween II
Round #3: Friday The 13th 3D -vs- Elm Street 3: Dream Warriors -vs- Halloween III
Round #4: Friday The 13th Part 4 -vs- Elm Street 4: Dream Master -vs- Halloween 4
Round #5: Friday V: A New Beginning -vs- Elm Street 5: Dream Child -vs- Halloween 5
Round #6: Friday VI: Jason Lives -vs- Freddy's Dead: The Final Nightmare -vs- Halloween 6
Round #7: Friday VII: The New Blood -vs- New Nightmare -vs- H20
Round #8: Jason Takes Manhattan -vs- Halloween: Resurrection
How would you score it?