Home » Trailers
Transformers: Revenge Of The Fallen – Teaser Trailer
13.02.09 #
Trailers
#
6 Comments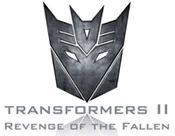 The new Transformers 2 trailer is online thanks to a couple of unnecessary risk-takers with videocameras and tickets to Friday The 13th.
Shia LaBeouf, Megan Fox, Josh Duhamel, Tyrese Gibson, and John Turturro (why?!) are all back for the Michael Bay-directed sequel, but this time they're joined by hugely popular international megastar Rainn Wilson.
The plot is, well, nobody knows. We still may not know after watching the movie.
Time to dust off those stock shots from Armageddon of meteors crashing through stuff, it's the Transformers 2 trailer -
The movie hits theaters on June 24th, 2009.
What do you think?
Source: Latino Review