Home » Review
The Watchmen Reviews Can't Agree
20.02.09 #
Review
#
33 Comments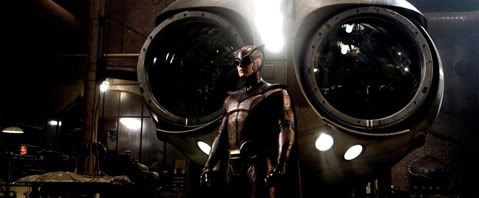 The early Watchmen movie reviews paint a confused picture.
There are several Watchmen reviews doing the rounds already and they're extreme opposites to say the least. The Nerdworld Blog on Time Magazine's website has this to say -
"Sitting in that screening room and watching the visual world of the Watchmen movie unfold was one of the most powerful experiences I've ever had. Not film experiences. Just EXPERIENCES… I don't think I realized how close I was to the original book until I saw such a loving, detail-rich, almost obsessive recreation of that universe… It had my heart pounding and head swimming. I barely slept that night."
O…K…
An AintItCool spy adds this -
"Yes, it's long but yes it's extremely faithful to the graphic novel, to the point that the sex and violence is almost HARSHER than I remember it being in the comic… a huge, beautiful, angry, dirty, faithful, sigh of relief of a film. You won't be disappointed and I will be going to see it again."
Now to the other end of the scale, cause there's nothing in between. Hollywood Elsewhere quotes a contact of theirs -
"…speaking as a huge admirer and devotee of the graphic novel, the Watchmen movie is a staggering failure. On the plus side…it is at times a meticulous and gorgeous recreation of Alan Moore's original work. Unfortunately it's an empty, inert, meandering and, yes, boring 2 hours and 45 minutes. Oh, and it's horribly acted throughout."
Their other early source says -
"Watchmen alternates between campy silliness and 2nd-rate comic book melodrama. At some points on the level of live-action Teenage Mutant Ninja Turtles…There's certainly no sense of tension or release in any of the action sequences. …There were certainly no cheers at the end. About 80% of the audience rushed out of the theatre the second the credits began; minimal congregating outside."
Of course the sensible thing to say would be that the truth is somewhere in between. But what if one of these extremes is spot on?…
Leave your own Watchmen movie reviews in the comments.
Also See: The International Reviews, Taken Review, Friday The 13th Reviews, Push Reviews