Home » News
Harry Potter 7 Casting Rumor
27.02.09 #
News
#
One Comment
British actor Nick Moran has been cast as a villain in the seventh Harry Potter film, according to the Metro newspaper.
Actor Nick Moran is set to star as the next Harry Potter villain our London Fashion Week spies claim.

The excited actor was overheard telling guests at the Global Cool London Fashion Week party in London all about his new role.

But the film baddie, 40, says he's not too happy about the location of the new blockbuster, which will reportedly take place in glamorous Watford.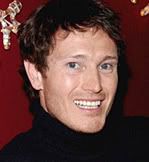 A quick peek at Mr. Moran's IMDB page reveals that apart from a lot of television work in his native Britain, the only thing of note he has really been involved with has been Lock, Stock and Two Smoking Barrels, and to be perfectly honest, I don't recall his character being that prominent… Having said that, he may be a spectacular actor just waiting to be unleashed. I'm sure we'll find out if this rumor is true over the coming months as more information about the final Potter film comes out.
Source: IESB