Home » News, Sequel
Point Break 2 – Sequel Plans
15.05.08 #
News
,
Sequel
#
2 Comments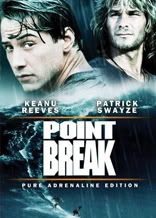 100% Pure WTF.
There's a sequel to Point Break on the way.
Announced at Cannes (where else?), it'll be directed by king of cack action Jan De Bont (The Haunting, Speed 2: Cruise Control, Tomb Raider 2).
The '91 original was a Keanu Reeves/Patrick Swayze vehicle, with Reeves as a rookie FBI agent sent after a group of "seasonal" bank robbers. They turn out to be the surfers he has befriended during his investigation, pulling off the heists to fund their lifestyle. Swayze played the leader of the group, who evaded capture at the end by facing what would seem to be a watery grave.
Original scipter W. Peter Iliff is coming back to write this next chapter. The plot is under wraps, but we do know it will be shot in Southeast Asia and Singapore.
It's also unclear if Reeves will be returning to the role of Johnny Utah (not a name you'd naturally associate with an FBI agent), or Swayze, who was recently diagnosed with cancer.
I'm fascinated to know what they've got up their sleeve for this one, or why on earth they think it makes any sense to revisit it now. I'll be first in the line when this comes out.
Discuss this in the forum here.
By: Dave Bartlett
Source: Hollywood Reporter