Home » News, Sequel
Narnia 3 (Voyage Of The Dawn Treader) – Sequel Plans
16.05.08 #
News
,
Sequel
#
66 Comments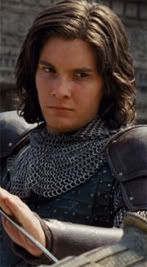 With Prince Caspian (hopefully) all set to be a summer smash, prep for Narnia 3 is well underway. The sequel will be directed by Michael Apted, who's new to the series but a veteran director of the likes of Enigma and Enough.
In Voyage Of The Dawn Treader, Lucy, Edmund and their rather unpleasant cousin Eustace return to Narnia via a painting (no Peter and Susan this time – they're told they're "too old"), to find King Caspian has built a grand ship. They set sail to find the seven missing lords of Narnia – heroes who Caspian's evil uncle Miraz banished when he usurped the throne. The ship's crew also includes captain Lord Drinian, first mate Rhince, cabin boy Rynelf, and Reepicheep the mouse. Although Reepicheep is the only non-human on board in the book, the production has said they will add Narnia creatures into the mix.
There follows a lot of island hopping and encounters which won't be spoilt here, leading eventually beyond the silver sea to Aslan's homeland. Liam Neeson will be back as the voice of Liam Neeson, I mean Aslan.
Although this is the fifth book in the Chronicles of Narnia series, filming it as the third movie is correct – They are using the order in which the books were published, not the chronological order the books were later rearranged into.
Chronicles Of Narnia: Voyage Of The Dawn Treader will be released May 7th 2010.
Hopefully the depiction of Eustace the Dragon will be more convincing than the one presented in the BBC miniseries –
---
Get Updates On NARNIA, Sign Up For The
Newsletter