Home » Sequel
Sequel To Friday The 13th Remake
2.03.09 #
Sequel
#
33 Comments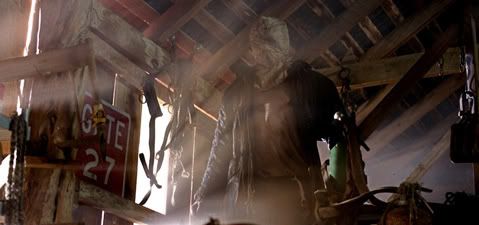 With the Friday The 13th remake pulling in more than $71 million worldwide, only a clown would think it was the Final Chapter. That was part 4 anyway.
Damian Shannon and Mark Swift, who wrote the remake, are already starting work on a script for a sequel. The film is likely to be a follow up to the new reboot, rather than using the previous series as a reference point. The reason for this is that, while Friday The 13th parts 1-4 were okay, the rest of the series was a massive load of poo. Producers obviously don't want Jason to be awaked by bolts of lightening, battle psychic girls and travel to New York. Wonder why.
### SPOILER WARNING ###
No word yet on whether the beautfiul surviving white people (Jared Padalecki and Amanda Righetti) will be returning. With their busy TV schedules -"Supernatural", "The Mentalist" they might not be able to put in the time.
However, this probably won't be confirmed for a few weeks at least. The two studios are now looking towards the long-awaited Nightmare on Elm Street remake, which begins shooting in just two months.
Soucre: Risky Business Blog
Get Sequel Updates For Friday The 13th 2, Get The Newsletter: