Home » Soundtrack
Monsters Vs. Aliens Soundtrack
26.03.09 #
Soundtrack
#
24 Comments

This is Henry Jackman's first full feature composer work, and considering his background in pop artist arrangements, it's definitely a pleasant achievement.
The Monsters vs. Aliens soundtrack is surprisingly clever, its crazy over the top orchestration fits the mood well, while throwing back to the early 80's space themed family action faire. It's an all out orchestral mix of brass, soprano & even synth.
Breaking up Jackman's score we have a few campy gems that pay homage to the 1950's post war UFO craze. The only song out of place for this theory would be "Reminiscing" by the Little River Band, purely added as an in film joke I'm sure. One of my favorite B-52's songs "Planet Claire" gets its deserved soundtrack treatment. As for the "Purple People Eater" song, I thought that one was dead and buried a long time ago. Sadly it's resurfaced, but it does fit the theme.
The Monsters vs. Aliens soundtrack is fun all round. Jackman is setting out on the right path. We should expect to hear a lot more from him.
Listen To The Soundtrack

You can buy it here
Monsters Vs. Aliens Soundtrack (Songs & Score) – Track Listing
1. Meet The Monsters – Henry Jackman
2. Monster Mojo – Henry Jackman
3. Susan's Call To Arms – Henry Jackman
4. A Giant Transformation – Henry Jackman
5. The GInormica Suite – Henry Jackman
6. Imprisoned By A Strange Being – Henry Jackman
7. Didn't Mean To Crush You – Henry Jackman
8. The Battle At Golden Gate Bridge – Henry Jackman
9. Do Something Violent! – Henry Jackman
10. Oversized Tin Can – Henry Jackman
11. A Wedding Interrupted – Henry Jackman
12. The Grand Tour – Henry Jackman
13. Galaxar As A Squidling – Henry Jackman
14. March Of The Buffoons – Henry Jackman
15. Godzilla Vs. The Alien Invasion – Studio Group
16. Godzilla Vs. The Alien Invasion – Studio Group
17. Tell Him – The Exciters
18. Purple People Eater – Sheb Wooley
19. Reminiscing – Little River Band
20. Wooly Bully – Sam The Sham And The Pharaohs
21. Planet Claire – The B-52's
22. When You See (Those Flying Saucers) – The Buchanan Brothers
(These songs from the trailer are not included: Rock You Like a Hurricane – Scorpions | Let's Get It On – Marvin Gaye | Peer Gynt Suite No.1 'Morning' – Edvard Grieg | Follow the Rabbit – Brand X | Chutes and Ladders – Brand X | Attack of the Mutants – Brand X | Hit Big Keep Out – Brand X)
Leave your thoughts on the Monsters vs Aliens soundtrack in the comments.
NEW: Funniest Animated Gifs About Movies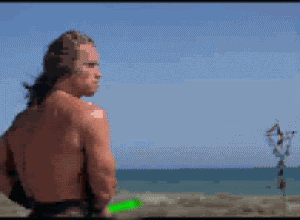 Arnold Rave