Home » News
Marvel Movies – Release Dates
17.03.09 #
News
#
7 Comments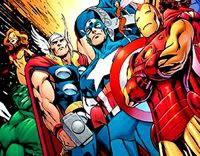 Marvel's upcoming comic book movies for the next few years have had a bit of a release date shuffle as of late. Being the informative sorts that we are, we figured we'd let you know what movies were coming out when.
The Kenneth Branagh version of Thor has been pushed back a whole year. Once pencilled in for July 16th 2010, it's now slated to be released on June 17th 2011.
The reason for this shift is to put it a whole month before Joe Johnston's The First Avenger: Captain America, which has been pushed back two months from May 6th to July 22nd 2011.
The reason for this is to allow hype to build for a full year for Marvel's biggest and possibly most ambitious movie of all time, The Avengers, which will not star Ralph Fiennes, Uma Thurman or Sean Connery. The superhero team mash-up will smash EVERYTHING EVER on May 4th 2012, ten months after its original date.
Not enough for you? Okay, how about Spider-Man 4? Yep, the only movie on this list with a lot to make up for has been announced for May 6th 2011. Will it suck? Who knows! They still have two years to work on making it good, so fingers crossed.
And not forgetting Iron Man 2, which is still going ahead on May 7th 2010. We'll even put cold, hard cash down on Iron Man 3 appearing in 2012, logically, somewhere after The Avengers. Speaking of which, how awesome is that that Mickey Rourke is signed on to play Russian villain Whiplash and Scarlett Johansson has bean cast as Black Widow?
On the subject of Iron Man, director Jon Favreau spoke to the lovely people at Ain't It Cool at SXSW about the forthcoming super-sequel.
Capone: There has been a lot of IRON MAN 2 news flying around in the last few days. What's true? What's not?

Jon Favreau: I can't confirm any casting stuff because there have been no announcements made, but let me say that the people that have deals that should all be finalized in our cast this week, I should hope…it's a different process being that Marvel is not a big studio and they don't really have the infrastructure to get things out there; it's not as streamlined as a studio, so I apologize to the fans for not being able to say things as quickly as possible. But they really want to have legal protections and not officially say things until everything is done. But, I'm very excited about the people that we have. There are no big surprises in casting coming that I can foresee [laughs]. It's going to be a really, really good group of people and a story that takes advantage of our cast but is in inundated and doesn't get too complex because of the number of new people that we're adding, which is always a tar pit for these superhero movies, you always have to make sure that you add the characters in a smart way.

Capone: Are you quietly relieved that Samuel L. Jackson has signed on to play Nick Fury for a billion movies or something like that?

JF: [laughs] I wasn't worried that Sam signing a nine-picture deal was going to hold up my movie, no. That would have been really bizarre if that had happened.
Phew! I now have brain ache. Before I slip off to put on my red jumpsuit and pray for the Flash movie, I'll just jot these dates into my calender:
May 7th 2010: Iron Man 2
May 6th 2011: Spider-Man 4: Peter Parker's Puberty Panic
June 17th 2011: Thor
July 22nd 2011: The First Avenger: Captain America
May 4th 2012: The Avengers
May – July 2012: Iron Man 3?
Sources: Empire, AintItCool