Home » Soundtrack
Adventureland Soundtrack
3.04.09 #
Soundtrack
#
29 Comments
The Adventureland soundtrack. If you need further proof that the 80's were the perfect setting for teen movies, just look to Adventureland. They've figured it out. A teen film that teens want to see, but stick it in the 80's to get suckers like me interested in it. Curse you Adventureland! Your powers are too strong!
Unlike its director's predecessor, Superbad, This film's soundtrack sticks with the era pretty strictly, and it's a shame… a shame that more soundtracks aren't this awesome!
The movie takes place in 1987. I was in junior high school in 1987 and I loved about half the Adventureland soundtrack back then. Growing up in Minneapolis, I dug/still dig The Replacements & Husker Du and even Big Star who have got to be the single most underrated band of the 70's. My only gripe is they couldn't get a more obscure Cure song. "Just Like Heaven" is to 80's teen soundtracks what Peter Gabriel's "Solsbury Hill" is to every quirky romantic dramedy ever made. Oh yeah, and the Adventureland Theme Song by Brian Kenny is untouchable. End of story.
For me, Adventureland goes beyond a 2009 film's original soundtrack and falls into the rank of an old mix tape that just warped in my tape player from overplaying.
Listen To The Soundtrack

You can buy it here


Adventureland Soundtrack (Songs) – Track Listing & Lyrics
1. Satellite Of Love – Lou Reed
2. Modern Love – David Bowie
3. I'm In Love With A Girl – Big Star*
4. Just Like Heaven – The Cure
5. Rock Me Amadeus – Falco
6. Don't Change – Inxs
7. Your Love – The Outfield*
8. Don't Dream It's Over – Crowded House
9. Looking For A Kiss – The New York Dolls
10. Don't Want To Know If You Are Lonely – Husker Du
11. Unsatisfied – The Replacements
12. Pale Blue Eyes – The Velvet Underground*
13. Farewell Adventureland – Yo La Tengo
14. Adventureland Theme Song – Brian Kenney
* Click For Song Lyrics
(This song from the trailer is not included: Blister in the Sun – Violent Femmes)
Leave your thoughts on the Adventureland soundtrack in the comments.
NEW: Funniest Animated Gifs About Movies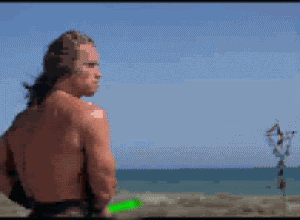 Arnold Rave