Home » Top Ten
Top 10 Most Shameless Uses Of Product Placement In Film
22.06.08 #
Top Ten
#
81 Comments
1. I, Robot (Converse, Fed Ex)
And finally, we reach number one, and our final appearance from the king of product placement, Mr. Will Smith.
What I liked about I, Robot was its precision in executing themes such as time, technology, business, and even politics. I liked the idea of the Frankenstein Complex, and the dangers of what we create turning on us. However, there was something else that stood out to me in this film; something that poor Will Smith has become stapled with, something… evil. No prizes for guessing. At the time, I was just 16 and relatively unaware, but I remember watching it and laughing at the blatant, prolonged placement of the converse shoes. On recent review, I also spotted FedEx, the Audi RSQ, JVC, Dos Equis (beer), Ovaltine, and Prudential life insurance.
I really cannot stress enough how awful the product placement is in this movie. In the pinnacle of product sleaze, Smith visits his mother's house, where she is carrying out her role as the cliché African-American mother character. As if a reference to the Converse shoes wasn't enough earlier in the film when Smith opened a package and practically had an orgasm over them; Smith's mother now carries on to ask him just what it is he is wearing on his feet. To which Smith replies "Converse All Stars, vintage 2004. Don't turn your face up like that I know you want some."
…Something tells me this isn't the futuristic dystopia that Isaac Asimov had envisioned in his earlier writings. What follows is a short compilation of just some of the product placement from the first thirty minutes of the movie.
---
Also See: Funniest Animated Gifs About Movies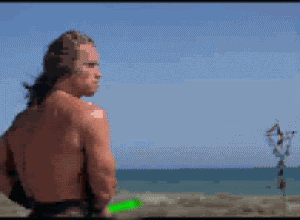 Arnold Rave