Home » Sequel
Crank 3 – Sequel Plans
18.04.09 #
Sequel
#
54 Comments

Crank 3 talk has been floating around since last year. So what's been said, and how likely is another sequel?
Crank has two directors, Mark Neveldine and Brian Taylor, and they've been very clear they'd like to see Chev Chelios, the medical miracle, keep going. The big idea they have for Crank 3? – Crank 3-D.
If anyone can have fun with the 3-D medium and bring something inventively off the wall to it, it's these guys. Crank is the sort of series that needs to be constantly raising the bar and this is the perfect way to do it.
Rather than using Avatar's 3-D technology, Neveldine says "Red cameras are putting together a sick lightweight 3-D system. Lightweight is key for us, it's about what you can do with the cameras."
How likely are the studio to green light Crank 3? Well Crank: High Voltage hasn't opened well. On Friday it landed in 6th place with only $2.6m, when it was really expected to hit 2nd or 3rd with double that. The decision not to hold press screenings looks to have been a bad one, it meant coverage was at a minimum and most critics who did see it gave it a decent grade, realising it's all tongue in cheek. The only thing that might save Crank as a franchise is that it's low budget ($12m) and the first one only became a hit on dvd, the same may happen here.
What would you like to see happen in Crank 3? What body part do you think should be missing? What should Chev Chelios have to keep doing to stay alive? Leave your thoughts in the comments…
Source: Collider
NEW: Funniest Animated Gifs About Movies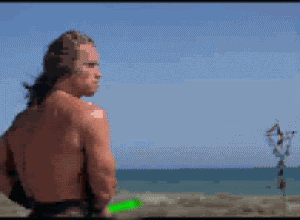 Arnold Rave