Home » Sequel
Hellboy 3 – Sequel Plans
11.07.08 #
Sequel
#
9 Comments

You can expect a Hellboy 3 if the second installment earns its money back. Make no mistake, director Guillermo del Toro loves making Hellboy movies. The first barely broke even, and it was his determination alone that made this sequel happen.
On the red carpet last week he said "Don't tell my family, but I would love to do Hellboy 3 consecutive to the Hobbit. The first movie was 2004, the second movie is 2008 so if the third movie is 2012, 2013, it's not that far off." Elsewhere he elaborated, "I don't think sequels that are whipped out are the best ones. I love the idea that we took so many years to make this one. If it takes four years to make Hellboy 3, I'm at peace."
But that doesn't mean he's not already actively thinking about it –
Hellboy was originally created as a comic book by Dark Horse's Mike Mignola back in 1994. Mignola is credited as co-writer on Hellboy 2. He says planning for the next sequel is already underway, and also shed some light on the future of the comic:
"Guillermo has thrown out so many ideas for the third movie, you go, 'Geez, if he puts everything into Hellboy 3 that he says will be in Hellboy 3, it'll be 36 hours long.' The third film, being the end of (the film trilogy), is hard for me. The comic is going to go for 10 to 15 more years, so I don't want to give him my ending. I want my ending to be a surprise."
Will Mignola give del Toro the ending to his comic? We'll have to wait and see. In the meantime, any blockbuster franchise with 58 year old Ron Perlman as its leading man is alright with me.
Sources: Collider,
MTV, Metromix
Get The Latest Updates On HELLBOY 3, Sign Up For The Newsletter



NEW: Funniest Animated Gifs About Movies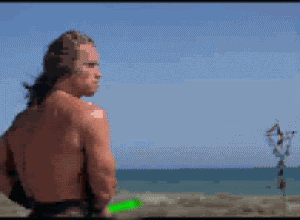 Arnold Rave