Home » News
X-Men Origins: Wolverine – Scenes After The Credits
3.05.09 #
News
#
27 Comments

** SPOILERS ** X-Men Origins: Wolverine features different after the credits scenes on different prints. So whichever ending / ending you saw this weekend, this is what you missed elsewhere.
The hidden scene our reviewer caught after the credits featured Wolverine drinking shots of whiskey in a bar in Japan. The bartender asks him if he's American, to which Wolverine replies "Canadian…I think." She asks if he's drinking to forget. "I'm drinking to remember" he says. (This is setting up the Far East as a likely location for any direct sequel)
The other 'hidden clip' features Deadpool's arm reaching out from the rubble to find his decapitated head. The eyes pop open and with his, now open, mouth he looks at the camera and says "Ssssh". Ridiculous.
Both prints feature a scene during the credits that has Colonel Stryker walking down a road with his shoes ripped open and his feet bleeding due to how far he has walked. He encounters soldiers who tell him he's wanted for questioning in connection with the death of General Munson.
Did anybody see a third hidden ending? Leave your thoughts in the comments.
NEW: Funniest Animated Gifs About Movies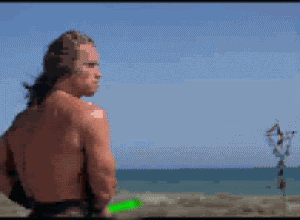 Arnold Rave