Home » Top Ten
Top 10 Feel Bad Movies
17.05.09 #
Top Ten
#
9 Comments
5. Of Mice and Men
Guess which one eats a bullet
This movie also has a dead dog.
And for some reason, the hero has to kill his retarded friend at the end. Not sure why.
4. The Mist
Guess which one … oh nevermind
A long tirade against religion with the occasional monster thrown in, The Mist could win an Oscar for "Most Rash Decision."
After a wave of other-worldly creatures descend on a rural supermarket, the denizens resort to human sacrifice within 24 hours. Those that escape the creepy critters and religious zealots drive off in a jeep, where they promptly run out of gas. Within two minutes, the film's "hero" shoots everyone in the jeep, including his own son.
3. On the Beach
Hug it out, everything will be fine
The world is dying from radioactive fallout. Most people don't do anything about it, they just walk around on the beach. Some people try to do something about it, they take a submarine to somewhere, but when they get there they find that the thing they were looking for really wasn't what they were looking for, so they go back to the beach to die with everyone else. That's pretty much the entire movie.
2. Beneath the Planet of the Apes
Before the world ends, we'd like to talk to you about Scientology
As if the ending to the original Planets of the Apes wasn't bleak enough, in the sequel Charlton Heston gets shot in the gut, so in retribution he uses his last ounce of dying strength to detonate an atomic weapon that completely destroys the world. The movie ends with this uplifting narration:
"In one of the countless billions of galaxies in the universe, lies a medium-sized star, and one of its satellites, a green and insignificant planet, is now dead."
1. Requiem for a Dream
Carrot Top in his finest role
Coming in at number one is the most depressing film ever made, Aronofsky's indie opus, Requiem for a Dream.
Do you think heroine junkies are depressing? Well how about heroine junkies, elder abuse, amphetamines, materialism, T.V. addiction, infomercial propaganda, racism, amputations, overdoses, and public sodomy for money.
But the music is cool.
---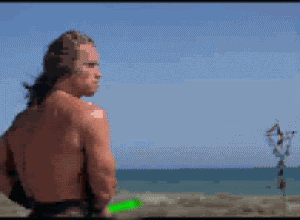 Pages: 1 2