Home » Soundtrack
The Hangover Soundtrack
3.06.09 #
Soundtrack
#
139 Comments

The Hangover soundtrack. I don't know how many casting agents perma-tanned straight man Bradley Cooper has had to sleep with to keep getting cast in high profile comedies, but he sure as hell must be funnier in bed than he is on screen.
This isn't a terrible soundtrack. In fact, it's unremittingly conventional – there are a couple of vaguely comedic numbers, a couple of fun skater punk tracks (The Donnas, Danzig), something rubbish from the 80s that everyone's now supposed to love because people who were kids in the 80s are old enough to stick them into high profile comedies with a postmodern smirk (Phil Collins), and some lazy forgettable crap (Revolution Mother, who sound like a dumbass version of Black Flag). And there's actually quite a funny little ditty from one of the "stars", Ed Helms ("What do tigers dream of/when they take a little tiger snooze/do they dream of mauling zebras?/or Halle Berry in her Catwoman suit?"). So, as soundtracks to modern comedies go, it's exactly as you'd expect. Exactly. Not a hint of anything interesting or leftfield about it.
And personally, I don't think a track from The Donnas (you don't need to know which one, they all sound the same) and Phil Collins is an adequate justification for you to spend money. You could literally buy three Tom Waits albums from a nice musky little independent record shop for the same price, and they'd all be amazing. And probably the Shaft soundtrack too if you haggle. And none of them would have Bradley Cooper leering at you on the cover. Go do that.
Listen To The Hangover Soundtrack:
You can buy it on cd here
(UK click here
)
Or as mp3s here
(UK click here
)


The Hangover Soundtrack ( Songs ) – Track Listing
1. It's Now Or Never (El Vez)
2. Thirteen (Danzig)
3. Take It Off (The Donnas)
4. Fever (The Cramps)
5. Wedding Bells (Gene Vincent & His Blue Caps)
6. In The Air Tonight (Phil Collins)
7. Stu's Song (Ed Helms)
8. Rhythm And Booze (Treat Her Right)
9. Iko Iko (The Belle Stars)
10. Three Best Friends (Zach Galifianakis)
11. Ride The Sky II (Revolution Mother)
12. Candy Shop (Dan Finnerty and The Dan Band)
Leave your thoughts on The Hangover soundtrack in the comments.
NEW: Funniest Animated Gifs About Movies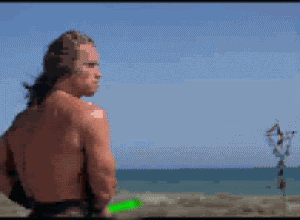 Arnold Rave