Home » News
Why Steven Seagal Turned Down 'The Expendables'
9.06.09 #
News
#
17 Comments
Imagine a movie made 15 years ago with Sylvester Stallone, Dolph Lundgren, Bruce Willis and Arnold Schwarzenegger – pretty damn cool. Now imagine it made today when they're all wrinkly, dried up prunes – more of a curiosity sideshow. Well it didn't happen then but it sure as heck is happening now in Stallone's upcoming action extravaganza The Expendables. Bruce Willis and Arnold Schwarzenegger are just cameos, but other significant members of this dream team include Jason Statham, Jet Li and Mickey Rourke.
Inevitably though, with this union of the most testosterone-fuelled meatheads ever to hit the big screen, a few big names have been ruled out. Jean Claude Van-Damme has apparently refused to join the party because he won't get the screen time he deserves, Wesley Snipes is not available as he is still serving time for failing to file tax returns and perhaps most notably of all, Steven Seagal will not be appearing either. That means no standing still during a fight chopping his arms with a constipated look on his face.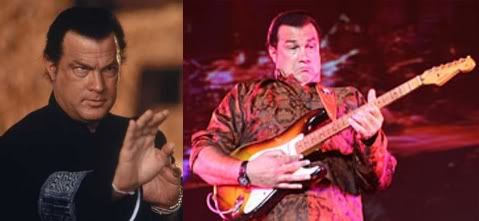 Now it emerges that Seagal's absence is down to a beef between him and the film's producer Avi Lerner. The pair fell out over some straight to dvd movies he made recently and Seagal doesn't want to do anything that would put money in the producer's pocket. What a shame. Who's going to bring environmental concerns to the story? Who's going to wear an all-black combo with leather jacket in the heat of the South American jungle? …Nobody it seems.
Source: MovieHole