Home » Top Ten
Top 10 Star Wars Quotes (and what makes them great)
31.07.08 #
Top Ten
#
45 Comments
1. "You can't win, Darth. Strike me down, and I will become more powerful than you could possibly imagine."
Film: Episode IV: A New Hope
Who: Obi wan Kenobi to Darth Vader
What makes it great?
Here we are at number one. The top Star Wars quote. The inspirational, wisdom fuelled last words of Obi Wan Kenobi: Jedi Master. In a heroic battle between good and evil personified; a lightsaber climax ensues between the master of the Dark Side, Darth Vader, and his former mentor. In Kenobi's farewell f-you, he illustrates the weakness of the Dark Side, and how in using the Force for evil, they fail to see its true power. A noble, and dignified battle, resulting in a noble, dignified death. He may have been reduced afterwards to a role as Luke Skywalker's Jiminy Cricket, but he got there with pure class.
Which Star Wars quotes would you like to see on this list?
NEW: The Funniest Animated Gifs About Movies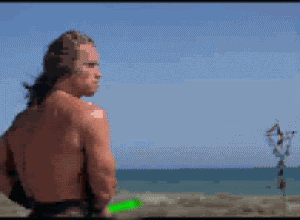 Arnold Rave