Home » Remake
Casting For 'Das Experiment' Remake
22.06.09 #
Remake
#
No Comment
Adrien Brody and Forest Whitaker have been confirmed as headline stars of The Experiment, the English-language remake of the acclaimed 2001 German prison-psychology movie of the same name. Also announced as joining the two aforementioned Best Actor Oscar winners behind bars will be Elijah Wood and Twilight's Cam Gigandet.
And here's a picture of one of the stars, Mr. Forest Whitaker.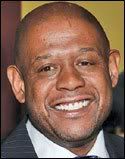 I'm not providing one of Adrien Brody because he looks like David Schwimmer if he fell asleep with his face in a trouser press (Mean Adrien? Mean?! Three hours of King Kong – THAT was mean).
Directed by Oliver Hirschbeigel (last spotted coming a cropper with Craig and Kidman in The Invasion, and father of a million-and-one comedy Hitler Youtube clips, courtesy of his WWII drama Downfall), Das Experiment was derived from the real-life Stanford prison experiment of 1971, when students of said university where cast as guards and inmates in a scenario designed to test how human behaviour functions in a penitentiary setting. However the plug was pulled after only a few days, as the 'guards' began exhibiting worryingly brutal tendencies towards their nominal charges.
The movie version saw these tensions being given full vent, as they boil over and manifest as actual violence, with Hirschbeigel's scenario revolving around the developing feud between the most charismatic prisoner and the ringleader of the increasingly-repressive guards. Brody is set to play the endangered prisoner, while Whitaker takes on the role of the sadistic sentry. Directing from his own screenplay will be Paul Scheuring, the creator of TV's Prison Break.
The original Das Experiment is a strong drama, gripping and well-made, but one really has to worry about the prospects of the remake coming up to scratch. From the likes of The Assassin and The Vanishing, to such recent efforts as Funny Games, the history of European cinematic triumphs being clumsily transformed into English-language dross is a pretty long and ignoble one. So even if The Experiment is able to break this sorry trend, the prior pain inflicted upon audiences may mean that its makers will find their movie is something of a tough cell (er, sorry).
Source: Variety