Home » Soundtrack
Tropic Thunder Soundtrack
12.08.08 #
Soundtrack
#
31 Comments

I actually have faith that the film will be pretty hilarious. Even with the Stiller and Jack Black overkill in Hollywood, I think it's Robert Downey Jr. that'll be the show stealer.
That being said, the Tropic Thunder soundtrack is pretty damn near generic as they come. There's no real surprise. It's exactly what you'd expect from a comedy like this. I can almost foresee the entire film just by the obvious songs that have been selected.
The album is bookended by two profanely wacky hip hop tracks by Crystal Method and Brandon T. Jackson, then filled with the most overplayed Vietnam era tripe in existence. I'm guessing by the feel of it, a lot of these songs will be played over montages. That's just my guess. I know the movie is making fun of Vietnam War films, so I guess I really can't complain about its lack of originality. Stiller was trying to express a mood, and the easiest way to do that is to stick in a song that has been beaten into the public perception for that particular genre. Then there's of course, that mother effin' Enigma song. You know the one. I swear Ben Stiller must own all rights to that song, and has it looped 24/7 pulsing through his house.
What it comes down to is that the soundtrack does its job. It familiarizes events and mood. There's just nothing new about it… It's like I've seen this collection of songs somewhere before.
"War! Huh! Good God! What is it good for?! Absolutely every war comedy film ever made, yeah!"
Listen To The Soundtrack



You can buy it here


TRACK LISTING
1. The Name Of The Game (The Crystal Method?s Big A** T.T. Mix) – The Crystal Method
2. Ball Of Confusion (That's What The World Is Today) – The Temptations
3. Run Through The Jungle – Creedence Clearwater Revival
4. Sadeness Pt. 1 – Enigma
5. U Can't Touch This – Mc Hammer
6. Ready Set Go – Ben Gidsjoy
7. I Just Wanna Celebrate – The Mooney Suzuki
8. I'd Love To Change The World – 10 Years After
9. The Pusher – Steppenwolf
10. Movin' On Up – Ja'net Dubois
11. Frankenstein – The Edgar Winter Group
12. Sometimes When We Touch – Dan Hill
13. War – Edwin Starr
14. I Love Tha P***y – Brandon T. Jackson
NEW: Funniest Animated Gifs About Movies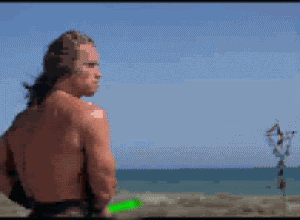 Arnold Rave