Home » Top Ten
Top 10 Actors Who Died Before Seeing Their Final Movie
19.09.08 #
Top Ten
#
71 Comments
1. James Dean: 1931 – 1955
James Dean's career only spanned four years, and he made just three films – but what an impact. Rumoured to have played the field on both sides of the fence, Dean was, and still is, a sexual icon for both women and men. He died in a car collision in 1955. His death at the young age of 24 guaranteed his name would never be forgotten, and cemented his role in Rebel Without A Cause, released one month after he was killed, as one of the most celebrated in film history. His final movie, Giant, was released the following year and earned Dean the first posthumous Best Actor nomination in Academy Awards history.
Honourable Mentions
Chris Farley (Almost Heroes), Oliver Reed (Gladiator), Richard Harris (Harry Potter And The Chamber Of Secrets), Orson Welles (Transformers: The Movie), Vic Morrow (Twilight Zone: The Movie).
Leave you thoughts on these celebrity deaths in the comments.
NEW: Funniest Animated Gifs About Movies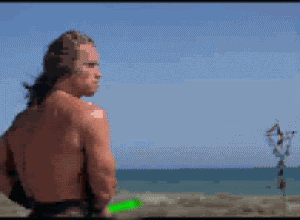 Arnold Rave