Home » News
First Photos From Drew Barrymore's Whip It!
11.07.09 #
News
#
4 Comments


These are shots of Juno star Ellen Page in Whip It!. Drew Barrymore, producer of Donnie Darko and Charlie's Angels, makes her directorial debut with the movie, which follows an all-female team of roller skaters with jokey nicknames like Smashley Simpson and Dinah Might.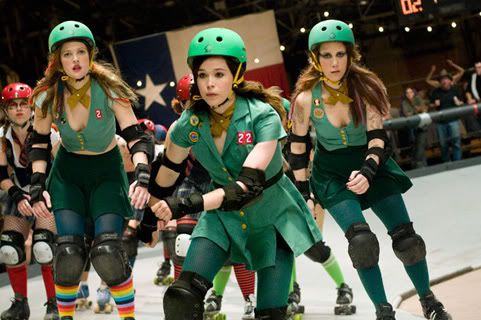 Page plays Bliss Cavender, who rebels against her parents and becomes a competitive skater with a team called The Hurl Scouts instead of the beauty queen they were pushing her to be. Barrymore explains that the story's themes resonate with her roots as a child star:
"I felt pressures that everybody feels, whether it's inter-office, in high school or a small town," Barrymore says. "Everyone relates to expectations others have or what the world thinks. Who am I going to become? What am I going to be in this world?"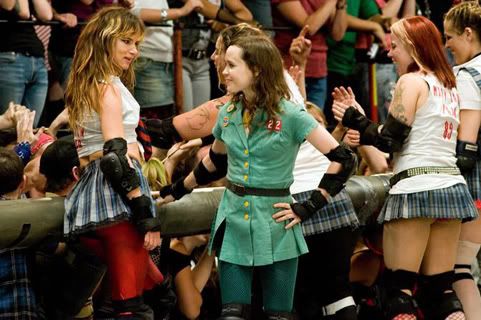 Sports movies are like romantic comedies for dudes. They're formulaic, you know what's going to happen, but it pushes all the right buttons and you feel awesome when it's over so you don't care if you've seen it a thousand times before – so long as it's well done. What with Judd Apatow currently raking it in making actual romantic comedies for dudes, it seems fitting, and refreshing, that there'll be a sports movie out there for chicks. Whip It! opens October 9th. What's your favourite female-centred sports movie? Enquiring minds wanna know.
Source: Cinematical, USA Today