Home » Sequel
District 9 – Sequel Plans
16.08.09 #
Sequel
#
390 Comments

The ambiguous open ending of District 9 isn't just for artistic purposes, Neill Blomkamp, the South African writer-director is thinking seriously about a District 9 sequel, presumably called District 10. So what has been said, and how likely is it?
"If this film is successful, if audiences want another, whatever, District 10, I would love to do it," said Blomkamp a couple of weeks ago. "It's a very personal film, and it's a universe and a place that I find incredibly creative. I'd love to go back to that universe."
But he's planning a gap first. "I have another science fiction film now that I want to write for the rest of the year," Blomkamp said. "That, I think, may be the next one, and I'm incredibly into [it]. It's quite different, and it's a unique idea, but I'm very into it. …It's a very similar genre."
But will District 9 be successful enough? Short answer, yes. It opened number 1 on Friday with $14m, that's half of its budget back in one day. It has an 89% final rating on Rotten Tomatoes, and, remarkably, a 9.0/10 average vote on imdb, making it the 78th most popular film ever with users. That sort of word of mouth means a long and profitable box office run.
*** MAJOR DISTRICT 9 SPOILER ALERT ****
Which direction would the District 9 sequel go in? Blomkamp was asked whether Christopher would do as he promised and return to Earth in three years to help Wikus. "I do have ideas rattling around in my head, and weirdly enough they're not to do with what you just said," Blomkamp said. "They're different. But, who knows?"
What would you like to see happen in a District 9 sequel? Should there even be one? Leave your thoughts in the comments.
Source: SciFiWire



NEW: Funniest Animated Gifs About Movies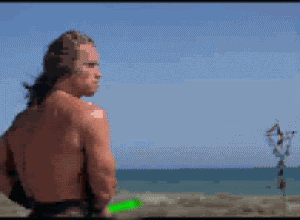 Arnold Rave