Home » Top Ten
Top 10 Pleasantly Surprising Nude Scenes
6.10.09 #
Top Ten
#
13 Comments
5. Basic Instinct

While nudity in an erotic thriller is by no means surprising, the way it's shot and portrayed can certainly widen some eyes and cause random outbreaks of sweat. The most obvious would be the infamous scene in which Sharon Stone wears a wonderfully provocative white dress to the police station, and, thankfully for us, must shift her position a few times to get comfortable. In a movie that is just one giant sexcapade, it must've been hard to make just one area truly stand out. Caligula surely had trouble with that. While it's known for being very sexed up, no one scene from the movie sticks out as being "the defining moment". With Basic Instinct, the sheer proximity to Sharon's… self will forever burn that moment in our society's collective sexual fantasies.
4. Airplane!

Perhaps the funniest topless scene ever. The plane begins to experience some turbulence, so what else to do than run directly in front of the camera without a top. Earlier in the film, a certain pair of anatomical beauties shook around in sync with some jello. I had assumed that this would be the one and only breast joke. Thankfully, I was mistaken when for some inexplicable reason this woman decided to freak out, conveniently directly in front of the camera, and not coincidentally, only showing her torso. Along with Titanic, this remains one of the few ways for an adolescent to view full-fledged nudity within the safety of pursuing it within their legal and socially acceptable means. My first viewing of Airplane! was on television, so it wasn't until I had purchased the DVD that I was even aware of this golden nugget buried within a comedy goldmine.
3. Silence of the Lambs

This moment was certainly a shock to me. The first time I had viewed the movie, I fell asleep twenty minutes in, and then woke up during Buffalo Bill's extravagant dance to Q Lazzarus. I was watching the film on a movie channel, so nothing was cut out. My first thought was that I had fallen asleep on the remote and had inadvertently worked my way up to one of the skinemax channels. When I found out I was wrong, it didn't make the situation any less awkward. Here I was, watching a movie about serial killers and badass Jodie Foster, and then all of a sudden I wake up to find a man tucking his packing between his legs while dancing to what is now the creepiest song ever. The scene itself has become so memory-burned into any viewer of the film, that just the mention of Q Lazzarus or playing one or two notes will invariably trigger a mental image of nude Ted Levine, or at least the line "I'd f**k me". Given the great but ignored roles Ted Levine has been playing for years it was pleasantly surprising to see him finally leave an impression on the viewing public.
2. Barbarella

I can only hope the potential remake of this film nails the opening sequence as perfectly as it was captured the first time around. For some inexplicable reason, everything is hotter in zero gravity. Hell, even coughing or twisting open a stubborn jar lid is hot when it's being done by someone who's floating. With Barbarella, the filmmakers took an already hot idea, young Jane Fonda undressing, and then injected it with the curious sexual enhancement known as no gravity. Each nude shot is soon obscured by the opening titles, but the titles seem in no hurry to do so. The whole idea of this naked woman, floating around and laughing for no reason other than to entice the audience makes for one hell of a way to open a film. Seriously, if every movie had its first scene like this, there would be no bad movies.
1. 80′s Slashers

I kinda bitched out here. Slashers, especially those from the eighties, are notorious for not only their incredibly rigid formula, explicit gore, but also for the obligatory nudity. I was trying to find just one, but instead I've nominated the entire sub-genre. Although the movies' nude scenes are never really surprising, the sheer ridiculousness of the amount present in the genre will be enough to surprise anyone who isn't familiar with it. In fact, in all my years of watching trash horror flicks from the eighties, the only one I've come across with no explicit nudity is My Bloody Valentine. But that film also has a 'wonderful' all-male shower scene, so it definitely made up for its shortcomings. Whether it be death in shower, a quickie before the slaughter, or taking a relaxing dip in the lake, somehow at least one character per movie finds a way to undress themselves. Foolishly, though. Removal of clothes is a death sentence in a horror film. If I were to try and choose one moment, it would have to be Jason Alexander's (George Costanza from Seinfeld for those of us who call him by his truer name) bare-ass showing up in The Burning.
HONORABLE MENTIONS
Eyes Wide Shut, Wedding Crashers, Something's Gotta Give, Swordfish, Reindeer Games, Most of Milla Jovovich's movies
Any pleasantly surprising nude movie scenes I missed? Leave your thoughts in the comments.



NEW: Funniest Animated Gifs About Movies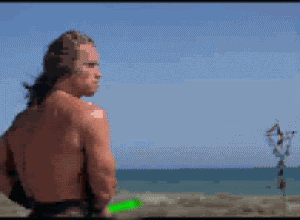 Arnold Rave
Pages: 1 2