Home » News
Green Light For The Green Lantern
30.09.08 #
News
#
No Comment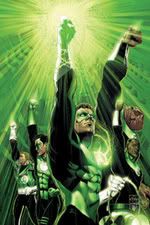 If you're thinking they must be running out of comic books to adapt to the big screen, think again.
According to First Showing, DC's Green Lantern is now scheduled to begin filming in spring 2009.
Producer Donald De Line has said the first draft of the script is written, but there's no director attached, or any actors cast. No hurry guys.
For those not familiar with the comic, the Green Lantern corps are a group of universe-protecting superheroes each granted a powerful ring which gives them control of the physical world – provided they have enough strength to wield it.
Much like the Movie-Moron writing team, the comic book series has seen many Green Lanterns join, leave, and then come back again, so it will be interesting to see which characters make it into the film.
Expect the release date to some time in 2010.
Source: First Showing
Which actor would you like to see donning a Green Lantern suit?