Home » Soundtrack
Jennifer's Body Soundtrack
10.09.09 #
Soundtrack
#
69 Comments

The Jennifer's Body soundtrack. If some laboratory boffin types were to put their egg-shaped noggins together and come up with the precise scientific formula for a successful teen movie then their working model might just look something like the forthcoming Jennifer's Body. Because the cocktail of elements on show in the new offering from the writer/director team-up of Juno scripter Diablo Cody and Girlfight lenser Karyn Kusama seems carefully calculated to seduce as much adolescent audience coin as possible – their film promising spooky diabolism, darkly comic high school satire, a smattering of gore, a dash of rock 'n' roll, a hot actress (Amanda Seyfried) donning specs in a bid to pass off as an empathetically geeky point of audience identification, and pin-up du jour Megan Fox going for a spot of skinny-dipping. Yet when it comes to the soundtrack, the commercial leanings of Jennifer's Body come across less as knowingly astute, and more as shamelessly desperate.
The movie's trailer exuded a certain retro cool with the use of cuts like Cherry Bomb and I Know What Boys Like, but the soundtrack album itself doggedly ignores anything more than ten minutes old, in favour of an indie-rock assemblage that is overwhelmingly of type hot-today/forgotten-tomorrow. Florence and the Machine's Kiss With a Fist makes for a boisterous if fairly tuneless opening rumble (fellow over-hyped British contemporary Little Boots also puts in an appearance), while New Perspective by Panic at the Disco (I am not wasting my time checking if they are using their exclamation mark today, and nor should anyone else. It only encourages them) is a cruddy mid-paced chugger that proves about as easy on the lugholes as a pair of acid-coated earmuffs. The strummed strop of Teenagers is contributed by Paramore's Hayley Williams, and Dashboard Confessional's vaguely Lennon-ish Finishing School is made to sound much better than it actually is, thanks entirely to its proximity to the turgid Time, by Cute is What We Aim For. A rare oldie comes in the form of Screeching Weasel's full-throttle thrash through I Can See Clearly, but this is immediately appended by a duo of absolute duffers from Cobra Starship and All Time Low.
Certainly one of the most irritating records of the last couple of years, I'm Not Gonna Teach Your Boyfriend How to Dance With You by the Black Kids sounds just as wretched here as it has ever done, with the throttled enunciation of singer Reggie Youngblood still irking like a hornet sting to the septum. And the Jennifer's Body soundtrack is rather neatly summarised by its final track, as NYC scenester Lissy Trullie delivers a gambolling rock version of the overrated Hot Chip cut Ready for the Floor – the painful strain for contemporary relevance taking all precedence over the possibility of aural enjoyment.
Listen To The Jennifer's Body Soundtrack:

You can buy it on cd here

Or as mp3s here


Jennifer's Body Soundtrack (Songs) – Track-Listing
1. Kiss With a Fist – Florence and the Machine
2. New Perspective – Panic at the Disco
3. Teenagers – Hayley Williams
4. New in Town – Little Boots
5. Finishing School – Dashboard Confessional
6. Through the Trees – Low Shoulder
7. Time – Cute is What We Aim For
8. I Can See Clearly Now – Screeching Weasel
9. Chew Me Up and Spit Me Out – Cobra Starship
10. Toxic Valentine – All Time Low
11. I'm Not Gonna Teach Your Boyfriend How to Dance With You – Black Kids
12. Death – White Lies
13. Celestial Crown – The Sword
14. Little Lover's So Polite – Silversun Pickups
15. Ready For the Floor – Lissy Trullie
Leave your thoughts on Jennifer's Body and the Jennifer's Body soundtrack in the comments. If you're looking for a particular song leave a description and someone normally replies.
NEW: Funniest Animated Gifs About Movies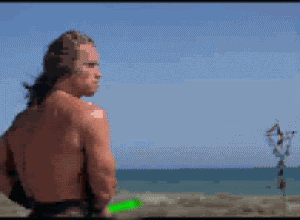 Arnold Rave