Home » News
New Moon News Round-Up
10.09.09 #
News
#
8 Comments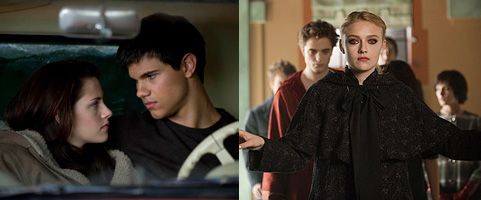 Having ignored it for many weeks, it's New Moon movie news round-up time. That means new New Moon pictures featuring Edward Cullen (Robert Pattinson), Jacob Black (Taylor Lautner) and Bella Swan (Kristen Stewart), Twilight tattoos, New Moon hedge mazes, and premiere dates. This post is dedicated to Adam Mason.
Today this all new still was made available, showing Edward and Bella holding hands in what appears to be Bella's bedroom 😉 –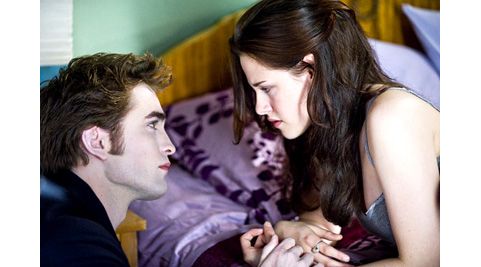 It's also been announced that Twilight Saga: New Moon will host its world premiere at The Village and Bruin Theatres in L.A. on November 16, 2009. I'm sure it'll be a quiet and reserved event. If you can't make it, the film officially hits theaters on November 19 (Australia), November 20 (USA), and November 27 (UK).
Utah's largest corn maze has made New Moon its theme for this year. You can now walk around inside Taylor Lautner's brain and find out which steroids he's taking –

There's a reported surge in New Moon tattoos leading up to opening day. Tattoo parlours in L.A. say Twilight's one of the top five themes being inked right now. Here are a couple of examples of artwork they will never regret –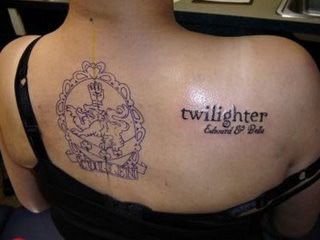 Meanwhile, Eclipse (aka Twilight 3) has already started principle photography several weeks ago and will hit U.S. theatres 30 June 2010. That's surely the shortest length of time ever between sequels filmed by different directors. David Slade is on board for this chapter. Yeah, the guy behind 30 Days of Night and Hard Candy – wtf.
Sources: Examiner, MTV
How excited are you for the Twilight: New Moon movie? Leave your thoughts in the comments.