Home » Soundtrack
Fame Soundtrack (2009)
18.09.09 #
Soundtrack
#
36 Comments

Fame soundtrack review. With dear old Mother Earth apparently on the verge of giving up the ghost due to humanity's alarming propensity for wastefulness, it is accordingly entirely prudent that we attempt to recycle and renew wherever possible. And an excellent current example of just such a caring approach being adopted in regard to our hurting planet can be found in the way that we are currently replaying the 1980s in lieu of bothering to think up an original cultural identity for 2009. Whether the artistic realm is music, fashion or film, The Decade That Taste Forgot is back with all the merciless ferocity of an espadrille-sporting, keytar-fingering bout of the Black Death. Which is why it is no kind of surprise at all that the latest movie dusted down from the remake shelf is none other than Fame – a flick (and accompanying TV series) that couldn't have been more 80s if it had starred Max Headroom and Mikhail Gorbachev.
Directed by Kevin Tancharoen, an erstwhile choreographer for Britney Spears (which in terms of getting started as a film-maker is pretty much the 21st century equivalent of editing Cahiers du cinéma), the '09 version of Fame depicts four musical years in the lives of the students at the New York City High School of Performing Arts. The trailer suggests an austere rationing of irony, but a plethora of uplift in the face of adversity, and that latter quality is certainly not in short supply on the soundtrack album. The record is lumbered with more than its fair share of over-earnest American Idol semi-final power ballads, clumsily offset with chunks of 'just tryin' to make it' hip-hop lite.
The Oscar-winning Fame title song has been given a makeover by the new movie's lead actress, Naturi Naughton, although the freshly-amended galloping rhythm meant that I kept expecting Debbie Harry to shout "Call me!" over the chorus. But she didn't. Naughton's co-stars also horn in on the soundtrack act, and pleasingly they all manage to deliver their tunes devoid of any of that Mariah/Christina/Alicia "WooOOOoooOOoooOO!" octave-hopping nonsense that sounds as if the practitioner has been shoved down a fire escape mid-note. On the other hand, none of the songs themselves are exactly memorable, with a trio of leaden piano numbers served up by Asher Brook making for especially dreary listening.
A remix of Santigold's You'll Find A Way does manage to inject some life into the otherwise pretty dysfunctional soundtrack mix, but the absolute worst is saved for last, as album closer Hold Your Dream delivers an over-egged mess of Andrew Lloyd Webber Broadway schmaltz and cod-gospel that is about as soulful as an airport Starbucks.
Listen To The Fame Soundtrack:

You can buy it on cd here

Or as mp3s here
Fame Soundtrack (Songs) (2009 Remake) – Track-Listing
1. Welcome to P. A. – Raney Shockne
2. Fame – Naturi Naughton
3. Big Things – Anjulie
4. Ordinary People – Asher Brook
5. This Is My Life – Hopsin, Ak'Sent, Tynisha Keli & Donte "Burger" Winston
6. Out Here On My Own – Naturi Naughton
7. Street Hustlin' – Raney Shockne feat. Stella Moon
8. You'll Find A Way (Switch & Sinden Remix) – Santigold
9. Can't Hide From Love – Naturi Naughton & Collins Pennie
10. Black & Gold – Sam Sparro
11. Back To Back – Collins Pennie feat. Ashleigh Haney
12. I Put A Spell On You – Raney Shockne feat. Eddie Wakes
13. Get On The Floor – Naturi Naughton & Collins Pennie
14. Try – Asher Brook
15. You Took Advantage Of Me – Megan Mullally
16. Too Many Women (Damon Elliott Remix) – Rachael Sage
17. Someone To Watch Over Me – Asher Brook
18. You Made Me Love You – Raney Shockne feat. Oren Waters
19. Hold Your Dream – Naturi Naughton, Asher Brook, Kay Panabaker
Leave your thoughts on Fame and the Fame soundtrack in the comments. If you're looking for a particular song leave a description and someone normally replies.
NEW: Funniest Animated Gifs About Movies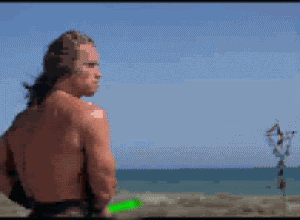 Arnold Rave