Home » News
Barbie: The Movie
25.09.09 #
News
#
4 Comments


Michael Bay is to blame. For G.I. Joe, for all those in development boardgame movies, for this. Barbara Millicent Roberts, Barbie to her friends, is coming to a theatre near you. Incredible. Trouble is, while boys toys might transition relatively well to the big screen, girls toys have a harder job, because girls toys suck. No offence, but nothing turns into anything, nothing comes with a sword…it's all fashion dolls, household items and babies that pee – how do you play with those things, let alone make a movie out of them? Exhibit A, Exhibit B…I don't need an Exhibit B, I rest my case your honor.
"Barbie is the most famous doll in history, a unique cultural icon in the world of brands," said Universal Pictures chairman Marc Shmuger. "So many representations of Barbie frequent pop culture, but never before has she been brought to life in a motion picture."
As you can infer from the above quotation, this movie was inevitable. But it's not like Barbie collectors are going to be all fangirl about this project is it? It's hardly happening by popular demand, and there isn't exactly a core narrative that has to be adhered to, so the powers that be could afford to take some…liberties.
Here are a couple of things that will never happen, but would go a long way towards making Barbie a tolerable movie-going experience:
Don't Make It About Toys
They could rip-off Disney's Enchanted and have a Barbie come to life, but they shouldn't. Make her a real person from the outset. Barbie's schizophrenic. That or she can't hold down a job. I mean, Surfer Barbie, Doctor Barbie, Actress Barbie – DiCaprio had less jobs in Catch Me If You Can…he was a criminal though, and that's a problem. Make Barbie a spy. That way she could juggle a ton of different 'careers' in one movie , and it could be a fun caper.
Don't Make It Self-Referential
As in, don't make Barbie a dumb blonde that's not dumb really. That movie's been made already, it was called Legally Blonde. And then it was called The House Bunny. And seriously, knowing winks to adult members of the audience in a Shrek like manner will result in Paris Hilton jokes. Eurgh.
Bryan Fuller
That's slightly unexpected, right? That's a good thing. The knee-jerk reaction to this movie is that it'll be torturous, attach a talented creator like the guy behind Pushing Daisies to it and voila, interest is sparked. Seriously, if this guy has to sell out to make a Pushing Daisies movie, so be it.
Neil Gaiman
Adapt Neil Gaiman's A Game Of You. Just kidding. But not really…
Bear in mind you've liked Barbie Stuff before
This:

And this: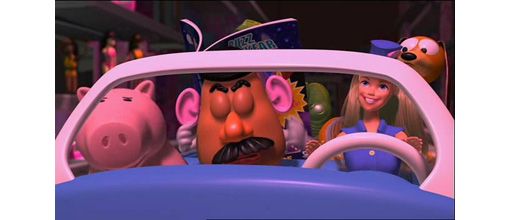 And, for some of you, even this:
Source: Guardian