Home » News
Bond Says "No" To Thor
22.10.08 #
News
#
One Comment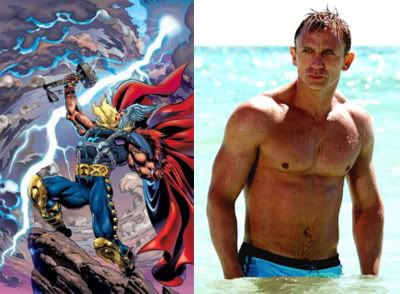 Jug eared 007 actor Daniel Craig has reportedly laughed off the idea of taking on the lead role in Marvel's movie adaptation of Thor.
Craig, who will soon be gracing our screens in the Quantum Of Solace, revealed to IESB.net that he was approached by Marvel to play the title character, but turned it down, confessing he struggled to see himself with long hair whilst wielding a giant hammer, and that the role would have been "too much of a power trip". Since when did that stop most actors?
The Thor story will focus on Donald Blake; a disabled medical student who, when he touches the hammer Mjolnir, is transported into the void where Thor – God Of Thunder – now lives. He convinces Thor to wield the hammer once more, and return to Earth.
Kenneth Branagh is in negotiations to direct, according to Variety. Thor is set to be released June 2010.
The notion of Daniel Craig being in a successful film outside of the Bond franchise is of course ridiculous.
Sources: IESB